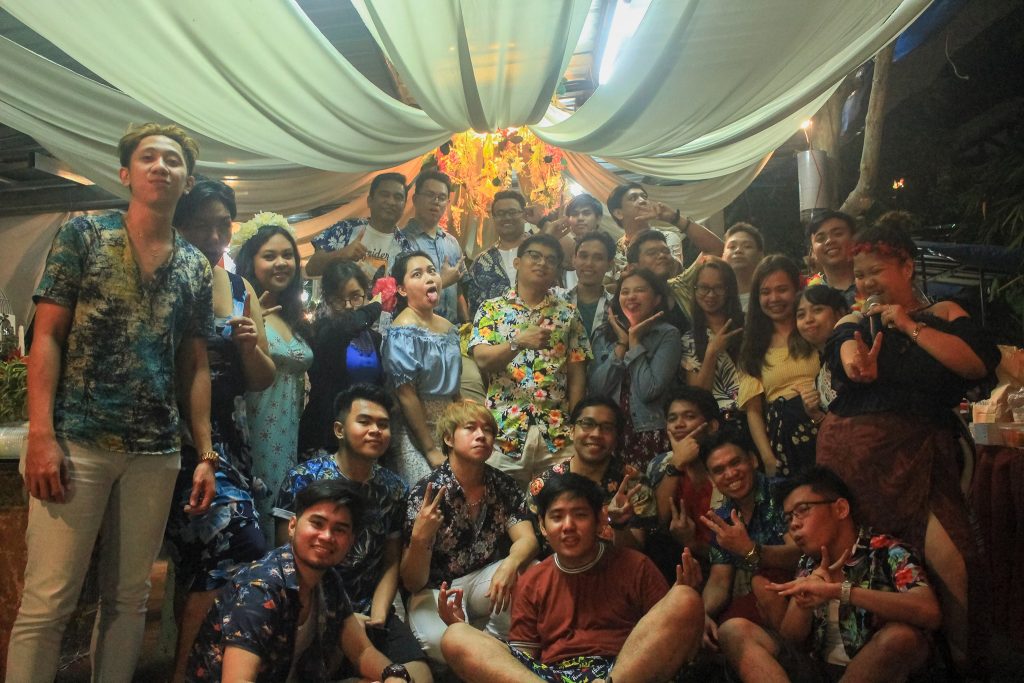 Digital Marketing Philippines is a client focused and one of the leading digital marketing and SEO agencies based out of Philippines offering the most effective Omni-channel Marketing services to Clients and Business Partners worldwide since 2013.
Formally established in 2013 by founder and CEO Jomer Gregorio, DMP started with a humble beginning – with less than 5 employees servicing a handful of small businesses from the U.S. Since then, DMP has delivered high-impact digital marketing solutions to clients from Europe, the Middle East, North America, Australia, New Zealand, Philippines, Singapore, and Malaysia, and now boasts a staff of about 30+ – all equipped with the skills and expertise needed to execute the most effective digital marketing strategies out there today.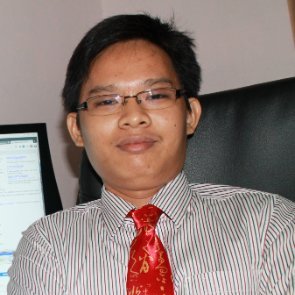 Jomer Gregorio is an experienced and client-recommended Filipino Digital Marketing Practitioner with over a decade's expertise in SEO, PPC (pay per click), local search, Social Advertising, and Content Development. Having been sharing his personal thoughts about different industry topics on numerous authoritative websites, Mr. Gregorio has also been invited to numerous Philippine universities for his in-depth and hands-on knowledge in digital marketing, including but not limited to DLSU Manila (Main Campus), De La Salle College of Saint Benilde, De La Salle Dasmarinas Cavite, Centro Escolar University, Polytechnic University of the Philippines-Taguig, among others.
Digital Marketing Philippines offers the most effective multi-channel and multi-platform Internet marketing services that will help your brand, products, and services reach their full marketing reach and potential. These services include:
Full Internet Marketing Services
Lead Generation Services
Content Marketing Services
Search Engine Marketing via Pay-Per-Click (PPC) Advertising
Search Engine Optimization (SEO)
Local SEO Services
Facebook Paid Marketing Management
Social Media Marketing and Optimization
Landing Page Creation
Infographic Design and Creation
The team at DMP comes with proven success and experience in providing top-of-the-line digital marketing products and services for both local and international clients making us as the ideal provider of Digital services for yourselves. We leverage the most effective digital marketing strategies and Best Practice techniques enabling your brand and businesses to reach the optimum. Digital Marketing Philippines' trending articles and infographics have been recognized, referred to, and syndicated by other businesses, marketers and universities in the B2B and B2C marketing arenas.
OUR CORE VALUES/MISSION AND VISION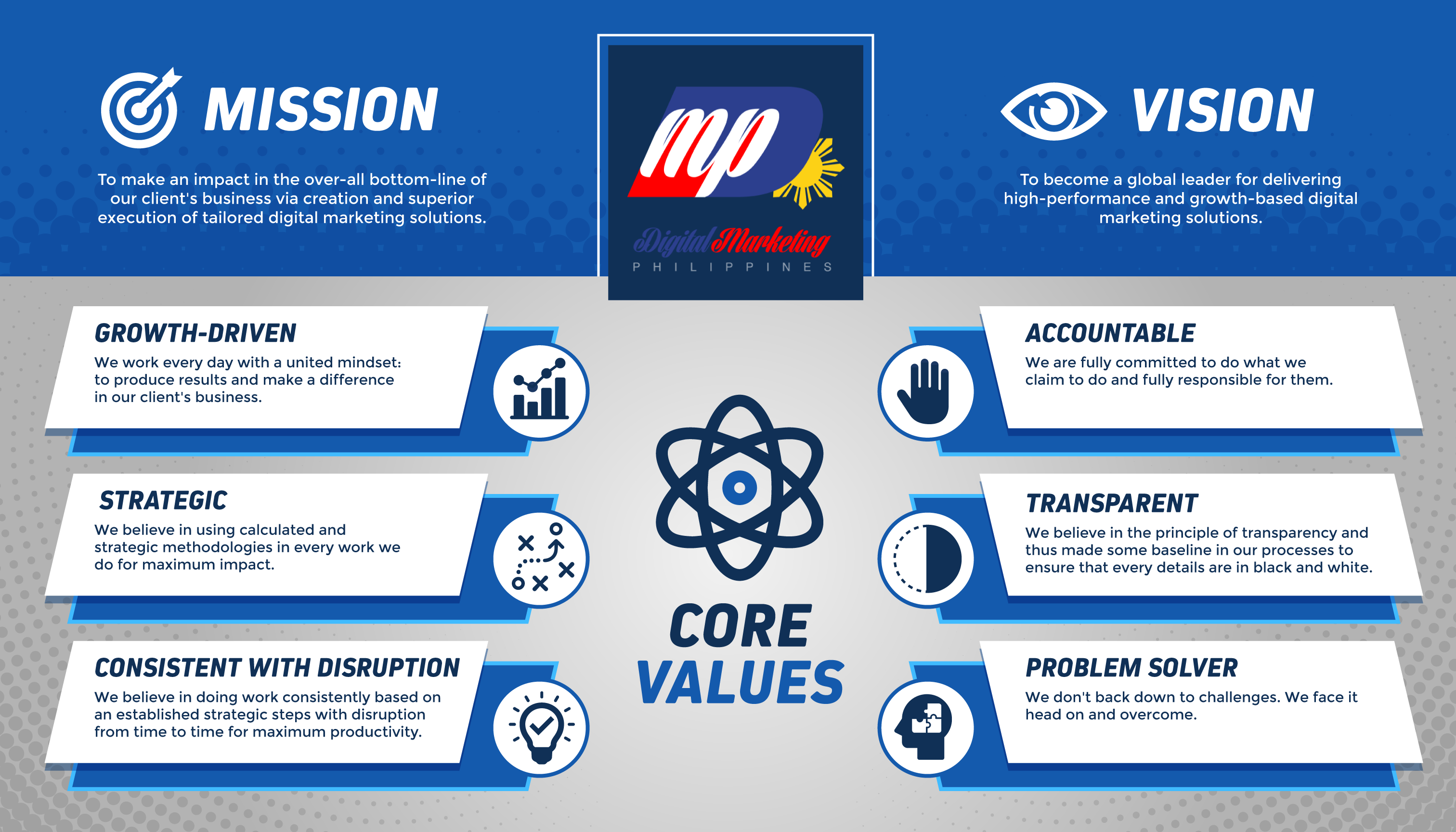 OUR TEAM
The DMP team is comprised of about 30+ dedicated, and creative individuals all coming from a variety of backgrounds and skillsets.  Each team member provides unique input into the development of each of campaigns we handle, with the goal of exceeding the expectations and providing the best solutions possible for all our clients.
Our combined expertise in Search Engine Optimization (SEO), Paid Marketing, Content Development, Social Media Marketing, Graphic and Web Design, and IT allow us to understand your specific needs and requirements and effectively collaborate with your business for optimum project success.
OUR LOCATION
Our headquarters is located in the City of Imus in Cavite, a province in the Philippines that is just 21 kilometers (13 miles) away from the nation's capital, Manila. Here are the advantages of our location:
Cavite belongs to the CALABARZON region, or Region IV-A, which is the second largest contributor (14% in 2018) to the country's total GDP. Being located in this fast-growing region enables us to expand our operations and attract more partners who want to get in on the opportunities.
Cavite is easily accessible to major business hubs in the Metro Manila, just 1-2 hours' drive away from Manila, Makati, Ortigas, and BGC.
Cavite is home to over a dozen public and private colleges – providing local businesses with a steady stream of talented and skilled graduates every year.
Cavite has over a dozen industrial parks and townships that attract more and more investors per year. Due to lower minimum wage rate and commercial space cost, increasing numbers of local and foreign businesses are finding this province to be a more cost-efficient location to establish and run their operations for the long-haul.
The new and upcoming Central Business Districts such as Lancaster and Vermosa in Imus, Evo City in Kawit, and Maple Grove in General Trias has made many experts see Cavite as the next "Makati".
Imus is a city in Cavite, and the de jure capital of the province. It is also the religious center of the province, serving as the seat of Roman Catholic Archdiocese of Imus.
Over the past recent years of improving economic climate, Imus City has attracted a number of foreign and local investors either to initialize their operations of establish a physical base in the area.
Just 18 km from Metro Manila, Imus City serves as a favorable location for industrial establishments, such as the Imus Informal Industrial Estate, Anabu Hills Industrial Estate, Liwayway Mktg. Corp, EDS Manufacturing Inc., and San Miguel-Yamamura Asia Corp.