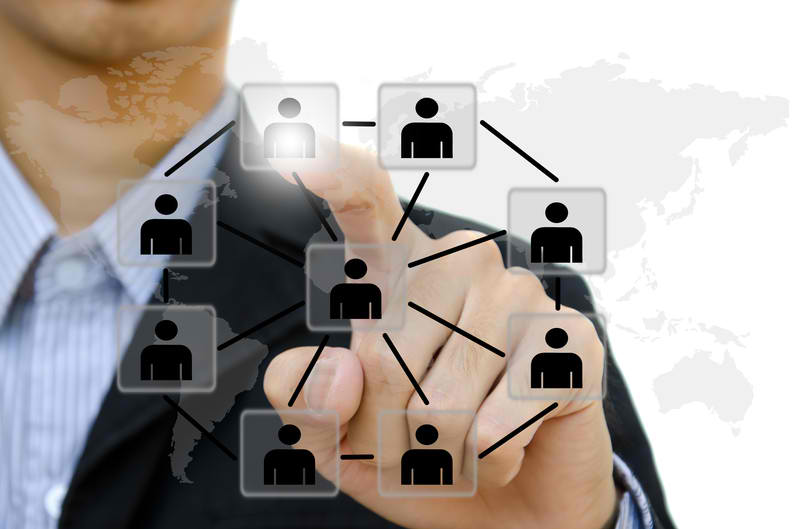 Note: We released a newer version of this article, click here to read it.
Undoubtedly, Facebook is the strongest force to reckon with in the online and social media sphere, with more than a billion users actively participating in liking, posting, commenting, sharing and doing all the myriad stuff people can do in this social network. Harnessing the potential of those one-billion users for your business however is not as easy at seems. Facebook is about social interaction, and how to bring these users to engage with your content is the trick that would really matter.
Daunting as it may seem brands, products and services can profit, and profit real good, from an effective Facebook marketing campaign. Businesses competing in this highly interconnected and technology-driven world should include Facebook in their overall marketing plans. The following gives an overview of how businesses can set-up a profitable and yet cost-effective Facebook marketing campaign that will deliver fast and favorable results.
What You Need to Have Before You Start a Facebook Marketing Campaign
Before embarking on any Facebook marketing campaign, businesses need to focus on certain considerations first and have important prerequisites established before any promotion can commence. Once set in place, these prerequisites can ensure that your Facebook campaign will deliver targeted, and at the same time very profitable, results.
Website and Sales Page – Facebook is just a tool for marketing your products and services and is basically not an end in itself. The main purpose of your Facebook marketing campaign is to drive potential customers to your website or sales page where the ultimate action – the sale – can take place. These pages should be properly established, with all links and payment buttons working, before any marketing is performed.
Lead Capture Page, Autoresponder and Email Delivery Service – Email is not yet dead and is still a very important tool used by Internet marketers. It should be an integrated part of your Facebook marketing campaign where many of your online customers will be coming from. Tabs and links in your Facebook page or profile can be embedded with lead capturing facilities, helping you build an email list where you can regularly send updates about your products or services – enticing readers to know more and eventually visit your sales page.
Facebook Page – Setting up a Facebook page is a very important process step in your campaign, for it will serve as your central hub for all your activities in this social network. Just be sure that your setting up a business page and not a simple personal profile page, as many businesses mistakenly do.
Vital Steps to Putting a Profitable Facebook Marketing in Place
Now comes the nitty gritty part, discussing core activities that you should do or establish to have a profitable Facebook marketing campaign – and it begins with a goal:

#1 – Set a Specific Goal
A goal is very important as it is the driving force that drives your vision and your marketing strategy. Without a goal, your Facebook campaign will lose focus and eventually will not deliver the results you want.
While targeted sales can be the most obvious, tangible goal for your marketing campaign, it would also be wise to consider other goals for your Facebook marketing campaign like:
Increased Exposure – measured by higher likes and reach.
Increased Engagement – higher PTAT or People Talking About This rates.
Establish Yourself as an Authority – your expertise in a particular subject matter can increase your credibility among users, evident through increased shares and followers.
These goals can be measured and monitored through Facebook Page insights, but it would wise to set specific goals within a specific timeframe. Once achieved these milestones can eventually help you reach your ultimate goal of increased sales.
#2 – Do Some Research
Using Facebook Page insights, you can have a measurable glimpse of who your audiences are through their demographics. This information can help you research more about a particular demographic, what matters to them, what drives their buying behavior and what content they will most likely engage in.
A good example is an interview by NBC News with a Facebook spokesperson regarding the social network's recent move of granting 13-17 years old users the option share, follow, and be followed by anyone through their settings. Internet marketers targeting this demographic can use this information to streamline their campaigns and engagement.
Another example is from a report released by TechCrunch which declared that 78% of Facebook users in the United States access this social network through mobile devices. This is approximately 100 million people, which an eMarketer research predicted to further increase to 154.7 million by the year 2017.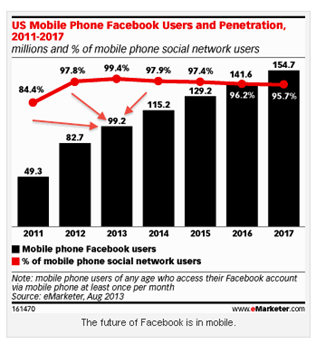 Research information like this can give you a glimpse of the pattern of behavior for Facebook users, allowing you to make adjustments in your overall marketing campaign. The example above shows a growing focus towards mobile, prompting businesses to adapt mobile-ready websites and the use of mobile apps for their campaigns.
#3 – Leverage Paid Facebook ADs
Changes to Facebook have limited the maximum reach (16%) a post or status update can organically reach within this social media sphere, limiting the free marketing ability of Facebook pages. Making use of Facebook's paid advertising products can increase reach to a more efficient 70% or more to targeted audiences with a higher possibility for more clicks.
A report from ShopIgniter called the 2013 Social Rich Media Benchmark Report indicated that using paid Facebook advertising can definitely increase the reach of various types of posts which include links, photos, offers, questions and video. If you want more exposure for promotional content, paid ads would be the way to do it and Facebook offers various schemes depending on your budget.
Setting a paid Facebook AD is easy to set-up and you can either promote the Page itself or a particular post. Promoting a page can increase the number of likes, with the option of setting your maximum daily budget and specific targeted audiences where you want your Ads to be shown. Go to your Facebook page at the left side and look for "Get More Likes" and you can see this image: Properly set-up all the necessary information (daily ad budget and target countries) depending on your requirement. You can start as low as $5 per day.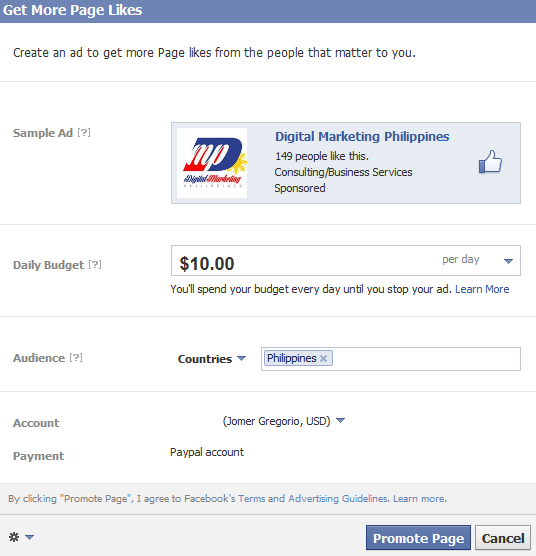 The readership and reach of a particular post can significantly increase by creating a paid Facebook ad by clicking on the Boost Post tab found below every post of pages which have 80+ likes (this is visible only through page admins).

You can set your targeted audience, including their Facebook friends, from whose profile your paid advertising shall appear.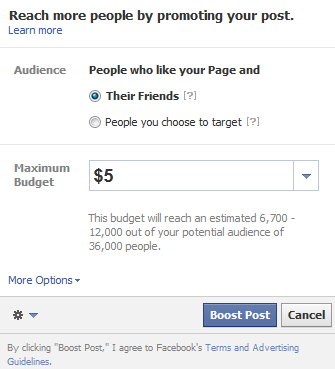 Or select the more advance feature of boost post which allows you to target location, gender and age of Facebook users.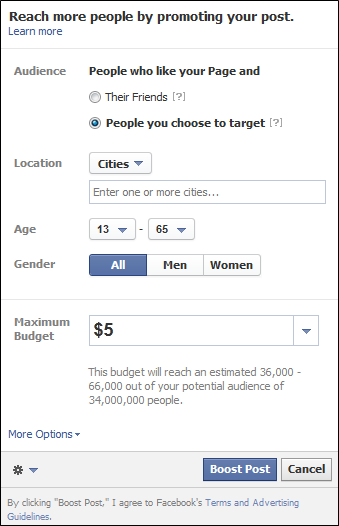 You can also set a maximum budget for the Ad, giving you varying degrees of estimated reach based on the budget you have allocated. The higher the budget allocated, the higher the impressions or views that your post will potentially get.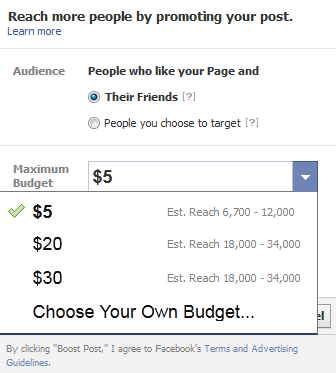 Payments for paid ads can be processed through credit cards or through Paypal. A post or link to your website or landing page can reach more people and more possibilities of more clicks (people actually clicking and reaching your sites) by using these paid ads. They are cost-effective way of using Facebook to drive more targeted visitors to your sales page – with the possibility for them taking action and eventually buying from your site.
In case you already are familiar with these paid ads. You can explore Facebook advance targeting options by going to https://www.facebook.com/ads/create select a page or url to promote then you will see this image: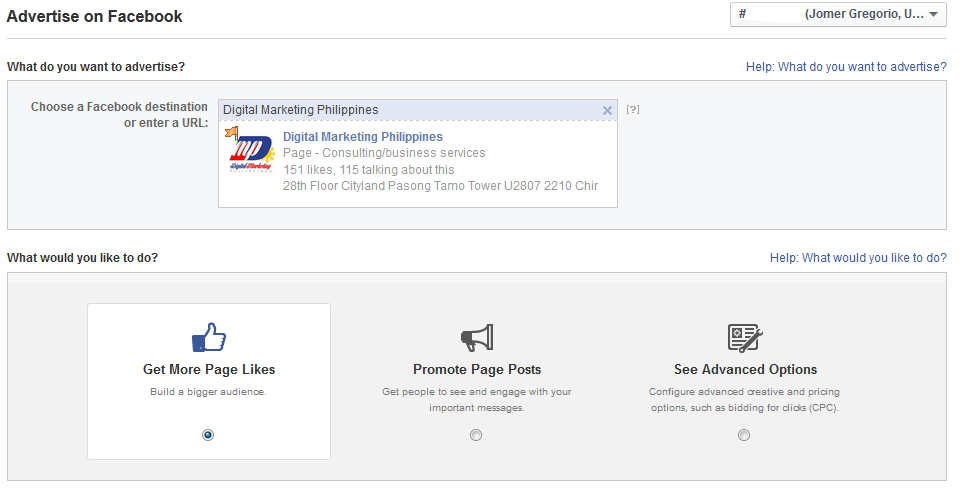 You will be able to select CPC or CPM and craft your targeted audience based on the most advance targeting options offered by Facebook. Facebook also offers you to ability to use up to 6 images per campaign and your ads will be shown both on the news feed and left side corner of Facebook giving your ads more exposure and impressions. I advise you to use this advance targeting options offered by Facebook if you already have enough experienced on the other 2. But if you want to explore it more, try to limit your daily budget by $5.
Note: You should be careful when using images for your ads, Facebook has a rule of minimum text in the images you use. The golden rule is 20%, read more about their text policy at https://www.facebook.com/help/468870969814641
#4 – Post Only Relevant Content on Your Pages
Again, it is reiterated that Facebook is tool for social engagement, and content is the primary driver for people to interact and engage with your page. Just like websites, Facebook pages should be updated regularly and consistently with relevant content that will give value to your readers, enticing them to know more about your products and services – enough for them to click on the links and visiting your landing or sales page.
The task of updating your content can be delegated to your Facebook page administrator or a social media manager. Businesses can assign this work to a particular staff as part of his or her daily tasks. A cost-effective alternative is to employ the help of a capable Virtual Assistant to work for you as a social media manager, creating relevant content for you and posting them regularly on your social media pages.
#5 – Engage with Your Page Fans

Your Facebook page administrator or social media manager should also act as a Community Manager, acting as a moderator in discussions and monitor comments, inquiries, and reactions and respond according to what is required. The effectiveness of Facebook pages for your Facebook marketing campaign lies not with the content regularly broadcasted in your pages, but on how interaction and communication takes places within these pages.
#6 – Use Facebook Commerce
Facebook pages have evolved from the standard timeline of posts, photos and discussions with fans, into interactive storefronts and e-Commerce sites where businesses can sell their products and services – all within Facebook. The availability of tools to make apps for creating storefronts makes it possible for businesses to design their own applications. Third-party providers are also available that would make it possible for Pages to install storefronts, ticket booths or deal centers.

#7 – Follow Facebook's Terms of Use

Setting up a Facebook marketing campaign can be very profitable for businesses, if done right and operates within the boundaries of Facebook's Terms of Services. Most common violations include building communities on personal pages instead of the more appropriate business page, running contests that violate these terms, and the most irritating of all – tagging people on posts, photos and videos without their permission.
Lastly, it is important that business owners track the performance of their Facebook marketing campaigns to check and gauge whether their goals are met, budgets for paid ads are not exceeded, and engagements with targeted customers are properly and effectively done. Social media channels like Facebook is definitely a very practical, cost-effective and efficient way of reaching out and marketing to existing and potential customers for any type of business. Your business will never be the same again when you add Facebook marketing campaign to your over-all marketing strategy.
Jomer B. Gregorio is a well-rounded expert when it comes digital marketing. Jomer is also known as a semantic SEO evangelist and practitioner. Check out our Digital Marketing Services today and let us help you in achieving positive and profitable results for your business.