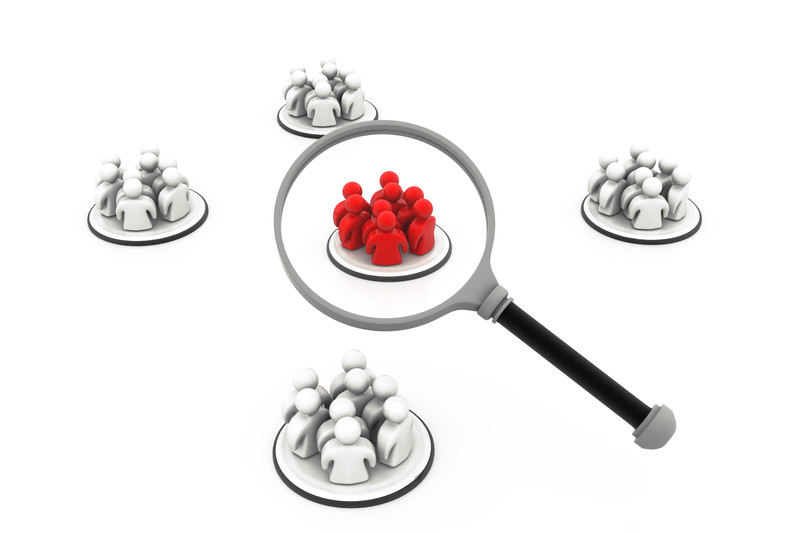 Wouldn't it be a great marketing opportunity if you can have a tool that will allow you to create Facebook Ads that are specifically targeted to your website visitors who already have some basic knowledge or awareness about your products and services? Facebook has heard your call and have provided the Facebook Custom Website Audience facility specifically for this purpose – and more!
Now, you can create highly targeted Facebook Ads specifically for these types of people, delivering a specially formulated marketing message that have greater chances of generating favorable results. With Custom Website Audience, you can run streamline campaigns that can target all your website visitors, or trim your target audience more specifically according to certain group or customer attributes.
Facebook Custom Website Audience is another great Digital Marketing tool that you can use for targeting highly relevant audiences with greater inclination towards conversion. You can learn more about Facebook Custom Website Audience with the following overview and have a clear understanding of how you can harness this great tool now to improve your marketing.
Overview of Custom Website Audience

Facebook describes Custom Audiences from Your Website as a "great way to drive potential customers who have expressed interest in your products back to your website". As all effective digital marketers know, it takes multiple touch points before you can get a positive – and profitable – response from prospects and targeted customers.
Targeted audiences who have previously visited your website, read a post, or browsed through a few of your web pages are already within this contact process. These people may already have some insights about your products or services and are still very fresh in their minds – and just need a little marketing push. Through Custom Audiences, you can deliver targeted marketing messages to these people anew and eventually proceed in transforming the contact process into a buying one.
As described in Facebook's guide on how you can get started with Custom Audiences, every page of your website would need to have a certain segment of javascript called the Custom Audience Pixel inserted into its code. You will also need to configure a set of Audience rules that will define who your custom audiences would be and is matched with the information embedded in the Pixel. Whenever a user opens a page containing the Pixel, that particular audience will then be identified as part of the Custom Audiences – which can later be targeted using customized ads.

(Source: Getting Started With Custom Audiences From Your Website)
A single account can have a maximum of 10,000 custom audiences whose information can remain in the Custom Website Audience database for a maximum of 180 days. Once removed from the database, a particular targeted customer can be part of the Custom Audience database again if he or she revisits your website. The ads that you can create can be tailored to target your whole customer database or only a particular set of audiences defined by certain criteria.
Benefits of Custom Website Audience
Users who have already harnessed Custom Website Audiences have already benefitted greatly in many aspects that have improved their marketing. Among those who have seen how effective Custom Website Audiences are in Facebook marketing trainer Jon Loomer who was able to increase his fans and email subscriber database from 50,000 users to over 115,000 highly relevant audiences using Custom Audiences for 30 days. Other benefits you can get from Custom Website audiences include:
The facility to create more efficient Ads by targeting only new audiences and exclude existing customers or subscribers
With Custom Audiences, you can target people who have already visited your site, but on top of that, you can also create custom audiences that are "lookalikes" of your website visitors
Audiences respond to marketing inputs based on how far they are on the contact and buying cycle. You can group these people according to their current buying activity and using Custom Audiences, you can tailor fit your ads and targeting based on the attributes of this group of people

Setting Up Custom Website Audience

As mentioned earlier, the key element to Custom Website Audience is the Pixel javascript that needs to be embedded into the code of every page of your website. The Pixel's job is to inform Facebook about how website visitors use your pages, capture their intent and use this information that will allow Custom Audiences to categorize them according to set Audience rules. The following describes the process of setting up Facebook Custom Website Audience.
From the left tab select "Audiences"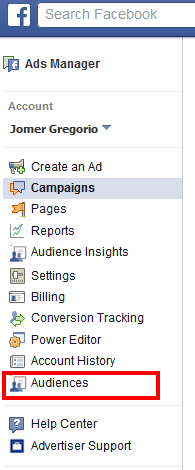 Click the "Create Audience" button
Click on "Custom Audience from Your Website" from the type of audience list

The types of Custom Audiences you can create and target in Facebook Marketing includes: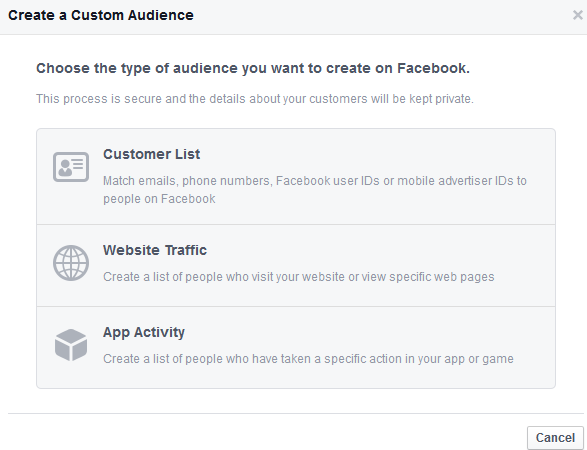 Website visitors are the most common targets that are added to custom audiences list. You can target all your website visitors or you can target only particular people who have previously visited a particular set of pages.
List of people that have taken some action using our app and game registered in Facebook marketplace.
You can target Facebook ads to Custom Audiences that are based on a listing of all your email subscribers. Setting this up however would be a little more complicated than others as you will need to use Excel files and columns, but the greater chances for conversions will be well worth it.
Custom audiences can also be set to target users that have similar or "lookalike" attributes to your existing network of website visitors, email subscribers and Facebook fans. This will give you the opportunity of marketing to a broader but still relevant set of audiences.
Agree to the Terms of Service
A lightbox will appear where you need to indicate the Audience Name and the URLs your targeted audiences have visited.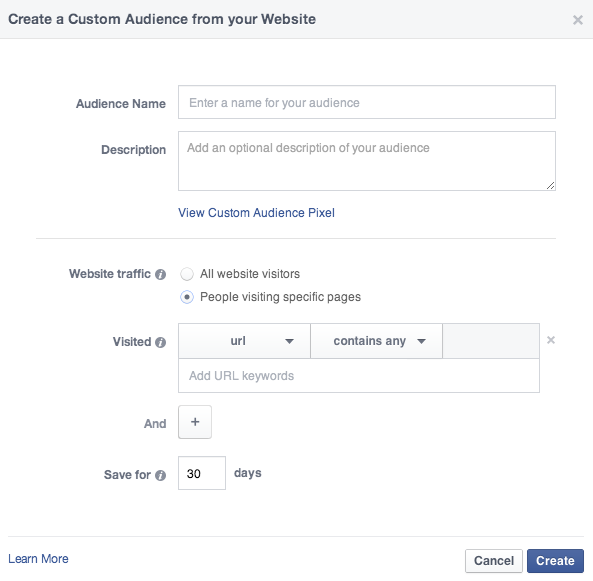 (Source: Getting Started With Custom Audiences From Your Website)
You can specify how long people will be retained in your Custom Website Audiences frpm 1 to 180 days
Double check your Audience rules for any errors
Click on the View Custom Audience pixel link where you can get the Pixel javascript that you can copy and paste into your website pages. Just make sure you copy the whole code from beginning to end just like as it shown below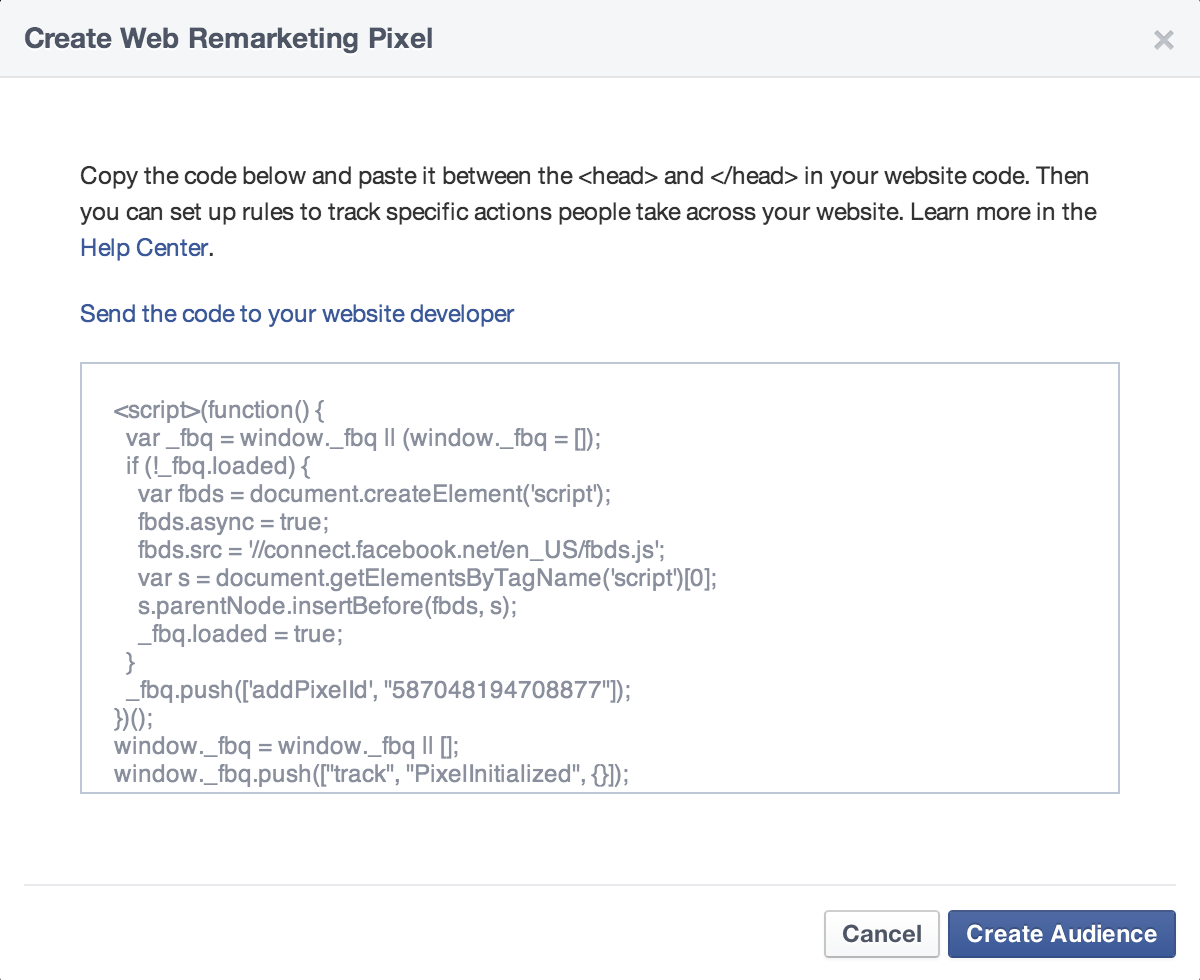 (Source: Getting Started With Custom Audiences From Your Website)
Important Points to Consider

Here are some important points that you need to consider when you create and use Facebook Custom Website Audiences:
Audience Name – use descriptive names that best describe your targeted audiences so it will make it easier for you to remember a particular Custom Website Audience
Description – This section is not strictly required but it would better for you later to add some details here about your targeted audiences
Website Traffic – This section is where you can specify specific Facebook users based on the pages they have already visited in your website by specifying keywords, domains, paths and URLs
Pixel – It would be best practice to have a copy of the Custom Website Audience pixel, paste it on a text document and save it for future reference. This way you can set up Custom Website Audiences just once to get this Pixel and use it again after the duration period, particularly if you're planning to target the same set of audiences
Duration – Custom audiences is set a 30-days default but you can extend it to a maximum of 180 days as needed
Retargeting to people who are already in your network of online influence – website visitors, email subscribers, Facebook fans – is a good marketing practice that will generate better results in terms of conversions. Facebook Custom Website Audience provides you with this facility, allowing to harness the power of Facebook marketing – to a highly targeted audience that will deliver great results.
Jomer B. Gregorio is a well-rounded expert when it comes digital marketing. Jomer is also known as a semantic SEO evangelist and practitioner. Check out our Digital Marketing Services today and let us help you in achieving positive and profitable results for your business.