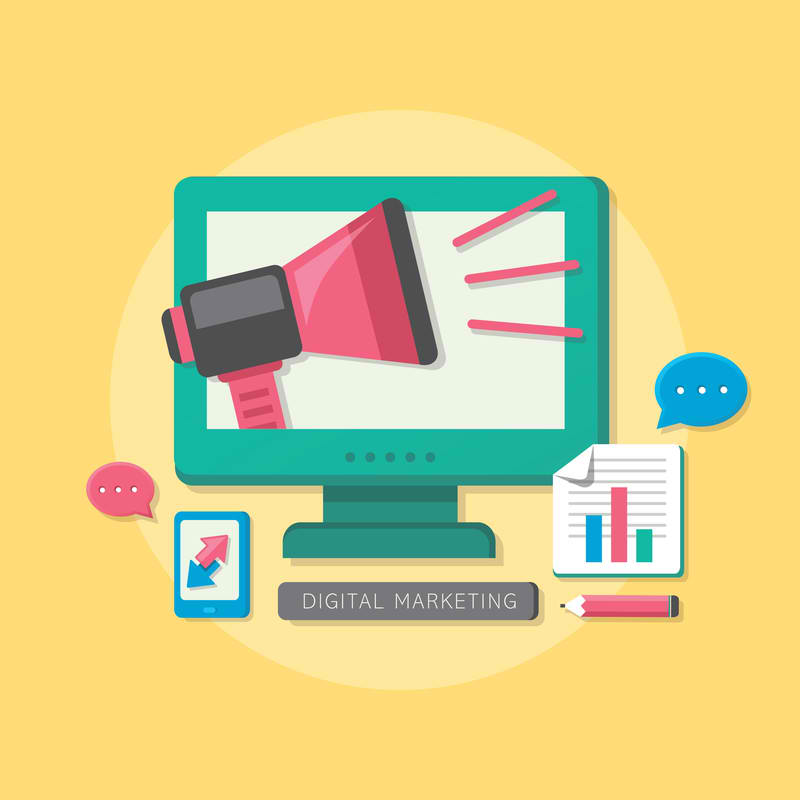 The traditional way of marketing brands, products and services make use of either indirect or direct methods of reaching out to targeted customers. These methods are clear-cut and very straightforward – you just need to invest money, perform a set of actions, and get results. The business and marketing landscape have drastically changed in recent years however. Traditional methods that were effective before may not be as effective in this current market powered by the complexities – and the vast wealth of opportunities – by the Internet.
That is why it is very important that your brand and business establish and maintain a very strong online presence to be competitive enough to reach out to targeted audiences. Traditional marketing rules does not necessarily apply in current scenarios. However, there are new markets and new doors of opportunities made available – that are only accessible through digital marketing channels. But with several Internet marketing tools available, which among these tools are the best and are worthy enough to focus on while they bring you steps closer to your business goals?
The answer will depend largely on the type of business you have and the kind of customers you are targeting for. Not all of these digital marketing tools are applicable or will work with your business. You need to perform a carefully planned set of actions that will enable you to learn, test and measure the results and performance of the digital marketing tool or tools that you have in mind. In this regard Digital Marketing Philippines shares these guidelines that can help you in your quest of identifying the best tools available to market your brand and business
Popular Digital Marketing Channels
Before you can actually start in the selection process to identify the best digital marketing tools, you must first learn and familiarize yourself with the various channels that are available at our disposal – and you can start with this list below:
1. Email Marketing
When business perform lead generation and other marketing strategies, they collect contact information like phone numbers and email addresses from potential customers, including permissions to send them updates and other information through email. Email marketing is one of the most effective digital marketing channels that can give businesses and ROI of up to 4,300%.
Many businesses with in-house digital marketers use email marketing, with up to 66% rating this tool as excellent for delivering ROI. This is why up to 56% of business highlighted that they are planning to increase email-related marketing activities by 2014. Examples of emails sent include emails for brand building, conversion, and newsletters.
2. Pay-Per-Click Advertising (PPC)
Paid advertising channels like Pay-Per-Click advertising deliver highly targeted traffic of potential customers within a very short period of time. This method however is driven by home much you are willing to invest in bidding and placing ad placements, as well as how much you are willing to pay for acquiring one customer.
Still, your advertising budget is still within your control, enabling you to set how much you have to spend for a day, a week or a month running your PPC ads. The effectiveness of PPC ads rely on how well you choose your keywords for targeting potential customers as well as optimizing the visual and contextual information in your ads.
3. Search Engine Optimization (SEO)
Almost all people using the Internet are familiar and are making use of search engines to look for anything there is they want to know or are searching for. In fact, up to 93% of online experiences happening to these people usually begin by using a search engine. People use search engines to look for information about a brand, product or services, and up to 59% of search engine users each month find a local business to satisfy a particular need. SEO involves several activities like keyword research, making use of both on-page and off-page optimization, linkable assets creation, organic link building and other related activities.
4. Display Advertising
Many people visit blogs, forums, and other websites that are interesting or useful to them. Digital marketers can reach out to these potential customers by placing relevant display ads on these third party sites. These include banners, boxes, interactive ads, video ads, interstitial ads, overlays and other similar ads that are linked to a landing page or website.
Display advertising creates greater brand awareness as well as generate highly targeted traffic that may convert into leads or sales. Payments for these display ads are usually based on Cost-Per-Impression (CPM) which is usually more cost-effective compared to the Cost-Per-Click (CPC) scheme typical of PPC advertising.
5. Social Media Marketing (SMM)
Social media is definitely one of the most phenomenal thing to happen in the digital arena that business owners and digital marketers can leverage on to create brand awareness for their products and services. Through Social Media Marketing (SMM), digital marketers can reach out to highly targeted potential customers through direct and person-to-person engagement.
The number of social media users continue to grow each day and is expected to increase by up to 26% more this 2015. Businesses and digital marketers continue to ride the bandwagon and more than 50% are planning to increase their SMM budgets this year. Digital marketers however should select the most appropriate social network to promote their kind of business to a particular kind of targeted audience. A simple guide is listed below:
Facebook – You can reach out to almost any kind of general consumer, you just need to learn in what groups and pages your targeted customer stay frequently go to at Facebook.
Twitter – If you're trying to develop a new business and would want to reach out to early adopters, then Twitter may be for you, particularly in generating fast brand awareness.
LinkedIn – Reaching out to professionals, business owners and other Business-to-Business (B2B) leads and targeted customers, then LinkedIn would be the perfect social network for you.
Google+ – This is another good social network for reaching out to early adopters of new businesses as well as reaching out to the B2B and general social media user. Business owners should however learn how to make a good presence at Google+ as this may be a great factor that will influence how SEO will behave in the near future.
Pinterest – This social network is great if you're focusing on visuals for promoting your brands and products. Majority of users are also women so if these are your market, then SMM on Pinterest will be good for your business.
6. Content Marketing
Content is at the heart of every digital marketing campaign and is the one major element that will remain constant despite the many changes that occur in the marketplace. With good, high-quality and very relevant content, your website and other Internet marketing real estate will generate considerable inbound traffic from highly targeted audiences – all of which can be potential customers. Up to 73% of digital marketers in the B2B arena are increasing content marketing activities this 2014. Content includes text, graphics, videos, and other related materials people are looking for and are very interested in.
7. Affiliate Marketing
If you need to reach a wider and more global audience, you need not hire someone from other locations. All you need to work with are affiliate marketers who can do the job for you for certain percentages in commissions when they sell your products – a perfect example of the pay-per-performance online business model. Global e-commerce sales exceeded 1.2 trillion dollars last 2013 according to eMarketer, with affiliate marketing doing its share to boost this market up. Forrester on the other hand predicts affiliate marketing to reach levels of up to $4.5 billion by the year 2016.
8. Online Public Relations
Online PR can be considered a part of Content Marketing in general for the main principle is to create promotional content that will be used for generating branding and creating traffic through exposure in online PR networks. Some of these channels are free to join while some require some joining/subscription fees before you could publish press releases.
Primary Considerations in the Selection Process
The digital marketing channels listed above are available for business owners to use independently or as part of an overall digital marketing campaign. The key here is to plan your campaigns well by taking careful considerations of some vital aspects as will be discussed below:
1. Define your primary company goals for using Digital Marketing channels.
Some of these goals that your business may be rooting for includes:
Brand Awareness – This includes greater company or product name recall as well as familiarity with your business, brand, products and services. If this is your goal, you should make use of digital marketing channels that provide strong brand awareness and development like the following:
Social media channels particular Twitter, Facebook and Google+.
Engaging with targeted audience through social channels.
Channels that promote visual elements like Instagram and Pinterest.
Channels that promote video materials like YouTube and Vimeo.
Promotional campaigns with coupons.
Joint venture marketing projects with other online businesses.
Participating in online and offline events.
Sales Generation – Most businesses market their brands, products and services to generate sales through online channels. More and more people are getting comfortable with the concept of e-commerce and are now more open to the idea of purchasing products through online means. If you have an online store, and e-commerce site, or have products and services to sell online, the following channels can be used for digital marketing:
Amazon Resellers
Facebook Storefront
Google Shopping Feeds
Google Search Network
Google Display Network
Affiliate Marketing Networks
others

Lead Generation – Many businesses make use of digital marketing mainly to generate leads and connect with potential customers. Generating leads for them is just the first step and they will follow through by communicating directly and engaging with these leads. Digital marketing channels that are good for lead generation includes:
Search Engine Optimization (SEO)
Pay-Per-Click Advertising
Display Advertising
Google Search Network
Blogging and other content marketing channels
Email marketing
others

Educate Potential Customers – Some businesses involve relatively new products and services that are very promising in their potential but still does not have an established market segment that are familiar or even knows that the product is already existing. Digital marketers in this segment should go for educating their targeted customers first, particularly in making them realize the importance of the products/services and the problems that they can resolve. Blogging, press releases and content marketing will be ideal for this purpose.
Generate Traffic – Many websites do not really have something to sell and may in fact giving away information and other materials for free. Many of these sites however are publishers of online contextual and display advertising as a way of monetizing their sites. In order to generate revenue from these ads, websites will need a considerable amount of raw traffic that will click on these ads. Digital marketing channels appropriate for this includes SEO and content marketing.
2. Define your budget allocation.
Defining what digital marketing channels to use will also help identify the budget that you will set aside for pursuing these campaigns. Budget allocations may include the following:

Fees for digital marketing manager and staff
Paid advertising budgets
Payment for content creation services
Fees for graphic artists, photographers and videographers
others
3. Identify Your Available talent.
Maintaining a digital marketing campaigns will require the use of personnel with a certain level of skills and knowledge on various aspects of your channels. You need to identify these to establish if your in-house resources would be sufficient for the job or will there be a need for outsourcing. These skills should include:

Development Skills – for your website design and development needs.
Creative Skills – includes both writing and visual creation skills.
Search Skills – talent needed for search marketing.
Social Skills – talent needed for engaging potential customers through social media.
When establishing a Digital Marketing Campaign for your business, you cannot rely only on a single resource to generate all the results you wanted. While each of these digital marketing channels have their strengths, they also have their weakness such as being inappropriate for certain audiences and business niche. The best way would be to rely on combining these tools and channels at your disposal and making use of what they have to offer that will help you reach your end goals.
Jomer B. Gregorio is a well-rounded expert when it comes digital marketing. Jomer is also known as a semantic SEO evangelist and practitioner. Check out our Digital Marketing Services today and let us help you in achieving positive and profitable results for your business.