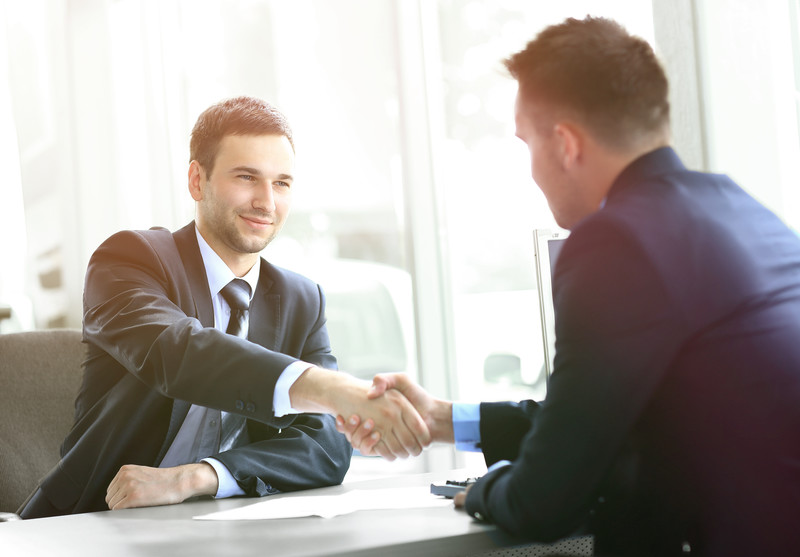 Trust, among any other things, is said to be the foundation for sustaining a transparent and customer-centric approach in doing business. And as a part of any marketing strategy, it also drives the buying process and serves as the basis for a long-term customer loyalty, which is why it is extremely important to win the trust from your clients first if you want your business to strive in the long run.
However, gaining trust from your audience is not an easy job, especially if you are just new in the industry. For most start-ups that have a limited budget for their marketing activities, it comes down to an effective content marketing strategy to build trust between the brand and the consumer.
If you want to fortify the relationship between your company and your target market, here is a step-by-step guide that can certainly help you gain a greater level of trust from your audience.
1. Create the Right Content
The first step in winning your audience's trust is to provide them with the right content that provides the best answers to their questions. If your audience can relate to the content that you have created, then they are more likely to trust your brand. Here is how you can create the right content for your audience:
Define Your Audience– Your audience can be segregated into two personas: those you are targeting to purchase from your business – the buyers; and those who will probably never buy from your business but will continue to read and share your content – the readers. Make sure that you develop personas for each so that you'll know the information you should infused in your content.
Source: Buffer Social Blog
Choose the Right Format- Although the format itself is not a precursor for increased trust, it helps. Choosing the right format that appeals to your audience ensures that they can consume your content as enjoyable as possible.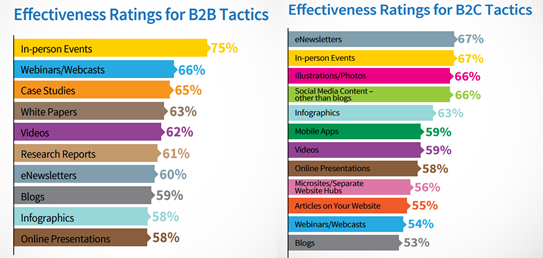 List of Most Effective Content Format for B2B and B2C Businesses
Source: Content Marketing Institute
Use Attention-Grabbing Headlines- Before you can earn their trust, you should engage with them first, and the first step to engaging with your audience is to use attention-grabbing headlines. Attention-grabbing headlines exude confidence and prompt your reader to become an active participant throughout the whole content.

Embed Images and Videos if Possible- Statistics says 65% of senior marketing executives believe that visual assets (photos, videos, infographics) play a very important role on how their message is communicated to the audience . Colorful images and related videos help your written content to be less boring and easier to understand so make sure to place some on your every content.
2. Ensure the Quality of Your Content
Surely, no one is going to believe on what you're saying if your content is not making any sense and is full of errors. Most of the people today have shorter attention span so you only have mere seconds to prove yourself worthy of their time. The following are some tips to ensure a high-quality content
Check for Grammar, Spelling, Usage and Scannability – Nothing will irate your audience more than a dozen of grammatical or spelling mistakes in your content. Read them repeatedly and use proofreading tools such as Grammarly or Hemingway Editor to spot any glaring errors.

Make Sure That Your Content Is Original and Well-Researched- More than half of marketers prefer original written content nowadays all because people still enjoys content that is well-crafted and is purely unique. Check this article from Kissmetrics to know the basics of writing a unique and well-researched content.

Provide Proofs – Citing real-life examples is extremely important in building trust. It serves as the proof to your claims and strengthen the idea that you want to imposed to your audience.

Cite Your Sources Accordingly- When including researches and statistics, don't forget to cite or link them in your content. Your audience might challenge the validity of your claims not until they are provided with credible sources that proves that your claims are true.

3. Create More Customized Content
Studies says that 78% of consumers will trust your brand if you create more customized content. For starters, custom content is a type of content that is geared towards the existing customers, that is to keep them loyal to your brand. Here are some tips for creating custom content for your customers: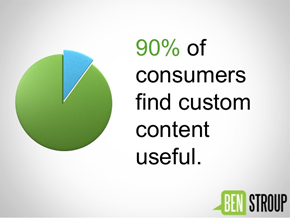 Source: Neil Patel
Understand Your Buyer's Persona – Buyer's persona is more than a short description about the location and age of your customers. It also talks about their qualities and preferences that they have. Developing a buyer persona can help you identify the exact elements that your custom content should deliver effectively.

Pick the Most Relevant Keywords- Your existing customers conducts search differently than your future customers. When choosing which keywords for your next content, make sure to include words that your existing might probably use. The image below shows how Kissmetrics can use those keywords to create custom content for their existing users.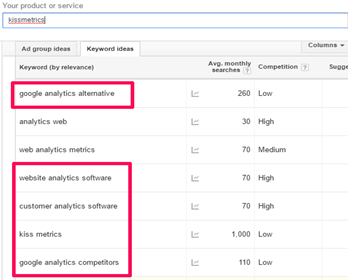 Source: Neil Patel
4. Be Consistent in Posting
One of the keys to a successful content marketing is a consistent posting schedule. It gives your audience an idea on when they can expect your next content. Plus, it also boosts your credibility and reputation since you are meeting their expectations. To build a consistent posting cadence, take the following steps:
Set a Monthly Schedule- Think about the topics that you will be covering for next month, and schedule it in your content calendar. This can save you and your team a lot of time and makes the daily workflow organized and easier to follow.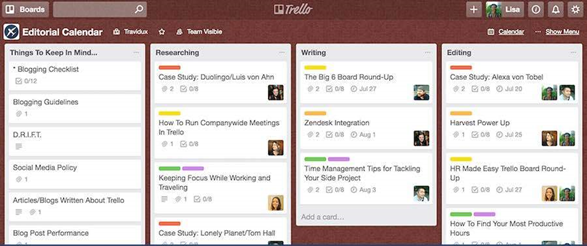 Example of a Content Calendar
Source: Business Banter
Conduct Research Ahead of Time- The research process is one of the most difficult and extensive part of the writing process, so it is wise to collect important information about the topic ahead of time to avoid any difficulties on the actual writing process.

Have Freelancers on Your Back- There will be times when the whole team might get busy with different projects that may delay the posting of your next scheduled content. When faced with this situation, it's best to have some freelancers on your contact database to help you get the work done.
5. Be Consistent with Your Voice
Aside from consistent content posting, you also should also ensure that you are using the same voice in each of your content. If your content sounds differently one after the other, your audience will find it harder to understand, and it will be more difficult for them to connect with your brand. To ensure a consistent voice in your content, take the following steps:
Define Your Brand Voice and Tone – Your brand voice differs from your tone in a way that voice must remain consistent while your tone can change. Your voice can vary from being professional to outspoken or confident. While tone depends on the type of message you are trying to deliver – sometimes you should use humorous tone while there are cases when you should use professional tone.

Use a Style Guide- A style guide is document that serves as the writing standard across the organization. This ensures that each writer – whether new or not – is representing the organization in the content the same.

Consider Hiring an Editor- An editor can oversee if the content being produced are consistent in their voice. They also provide fresh perspective about the whole content strategy so you can adjust if it needs so.
6. Make Your Content Shareable
78% of people are more likely to trust information shared or created by their peers, that is why creating a highly-shareable content might be the way to keep in touch not only with your target audience but to their friends and families as well. Here are some tips to ensure that your content will get shared in the social media sphere.
Make Your Content Unpredictable- Providing lesser-known facts about the topic you are covering is one the best way to keep your audience interested on your content, sharing it eventually in their social media accounts.

Appeal to Emotion- There are ways to tap into the emotions of your audience. It could be through humor, argument-conducive opinions, or even nostalgic stories. You can also use thought-invoking images and videos that will speak to your audience after every section of your content.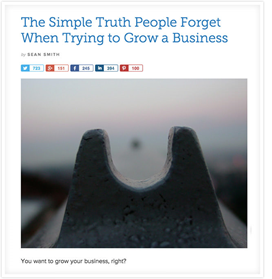 Example of a though-invoking image
Source: CopyBlogger
Try Newsjacking- Newsjacking is the practice of leveraging trending topics and popular news stories in your content. Simply put that it's like piggybacking on what people are talking about in various social media channels. If done right, this can increase your reputation to your audience.
Example of a Newsjacking Article
Source: SaaSAddict
Content marketing is a drawn-out process, but it is guaranteed to help you increase the trust level of your audiences to your brand. Once you get their trust, they are likely to engage more with your brand, and eventually become the most loyal customers of your business.
Jomer B. Gregorio is a well-rounded expert when it comes digital marketing. Jomer is also known as a semantic SEO evangelist and practitioner. Check out our Digital Marketing Services today and let us help you in achieving positive and profitable results for your business.