As the Philippine economy is continue to rise to its highest level. Outsourcing is also one of the most helpful industries that contributes to its growth. Most Filipinos can now enjoy working in the Philippines through the outsourcing industry and choose the most suitable career for them which also give them a higher compensation than the average Philippine salary rate.
What Is Outsourcing?
Outsourcing is simply the transfer of work from one company to another company which usually located outside of the origin country of the clients or the one who wants to outsource the work. The best example for this are the American companies who outsource their customer service to a third party call center company here in the Philippines (Teletech, Teleperformance, etc). Call center is just one of the most popular markets in outsourcing, there are other interesting markets which are growing steadily over the years.
The short infographic:
Why Foreigners Outsource to the Philippines?
While there are also other countries that outsource to the Philippines, the country that mostly do this is the United States of America. There are lots of reason why Americans prefer Philippines than any other countries, I explained the top reasons why below:
Most Filipinos speak English – Even though most Filipino's don't speak that fluently, most Foreigners can understand us alright. And English is one of the 2 main languages in the Philippines. So we are somewhat familiar to the language. And communicating well when outsourcing is one of the most important issues that clients have in mind. Since most of us can speak English and can communicate well with them, they chose us than other countries.
Most Filipinos are hard-working – The number of OFW or Overseas Filipinos workers abroad are proof that Filipinos have pride in their work and usually do them well. And their continued presence in those work means that their employer's loved their work ethic. In outsourcing, we can also see this. The continued patronage of Foreigners or Americans to outsource here is a proof that they indeed love our hard-working attitude.
We charge less with quality work – When you compare rate of a Philippine Company to a foreign company. You can see the big difference between the pricing with the exact same service. Of course, if you are the business owner or the manager. You will prefer those same services for less specially if they the same quality as other provider who charged more.
Start-up Friendly –Not only big businesses can maximize the great benefits of outsourcing to the Philippines. Start-up Company can also do the same. Full-time salary of quality workers starts from as little as $200 to $500 per month depending on the difficulty of the job and the skills or experience of the potential employees. In some cases, for less than $2,000 you can have your entire team of employees ready to serve you and your business!
Outsourcing to the Philippines in indeed an attractive idea to many Foreigners especially Americans. Now that you now the reasons why they chose this country. Let's explore the most popular and hottest markets in the outsourcing industry today:
Call Center – This is perhaps the most popular market of outsourcing and probably the reason of the influx of other markets. All over the Philippines, you can see big call centers with attractive compensation rate and good looking offices. Anywhere in the Philippines, call center is big evidence of massive influx of outsourcing projects by foreigners.
IT Services – IT Services like programming, software development is also popular. IT talents are never short in the Philippines. IT courses and schools are everywhere in the country.
SEO – This industry is also one of the fastest growing in terms of outsourcing. SEO companies are everywhere. And it's starting to gain momentum in the terms of popularity among foreigners.
Internet Marketing – Courses offered by La Salle and Ateneo is proof that this industry is hot these days. Most foreigners chose to outsource this since Philippine companies' offers very minimal rate than foreign companies.
Virtual Staff or Employees – Individuals like real estate agents, start-up company owners and others chose Filipino workers because of its minimal compensation requirements that comes with full-time work hours.
Conclusion: Truly outsourcing in the Philippines is a great idea. Any type of business can greatly benefit from this lucrative opportunity, it's a win-win situation for both parties. You provide jobs and livelihood to many Filipinos and you save a good amount of money for your finances which you can then re-invest to other areas of your business. If you haven't tried outsourcing to the Philippines yet, then it's time for you to consider doing it. There are lots of websites that you can use to find potential people out there or some companies which can guide you on how to outsource to the Philippines correctly. Try to outsource something in the Philippines today!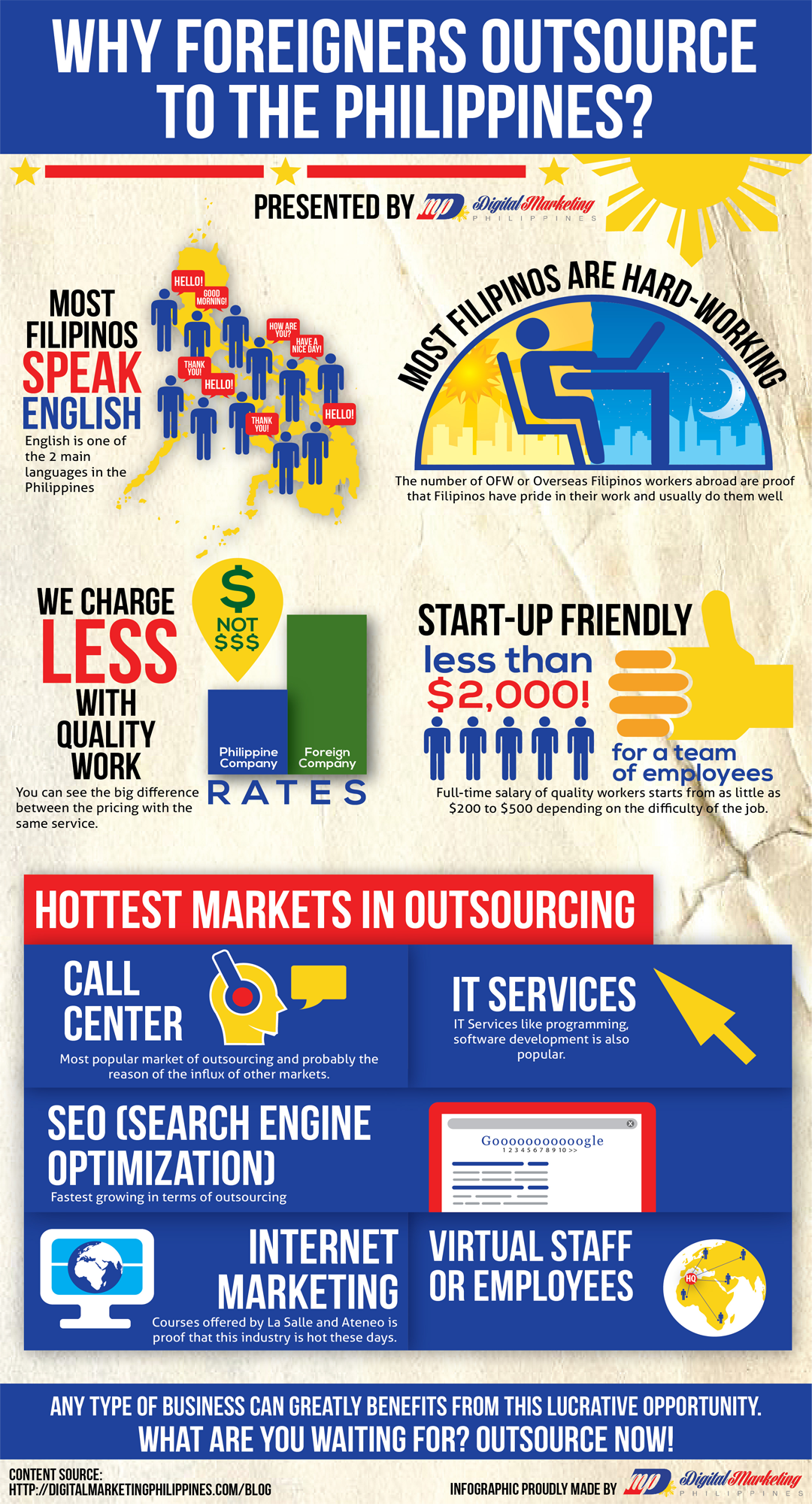 Jomer B. Gregorio is a well-rounded expert when it comes digital marketing. Jomer is also known as a semantic SEO evangelist and practitioner. Check out our Digital Marketing Services today and let us help you in achieving positive and profitable results for your business.