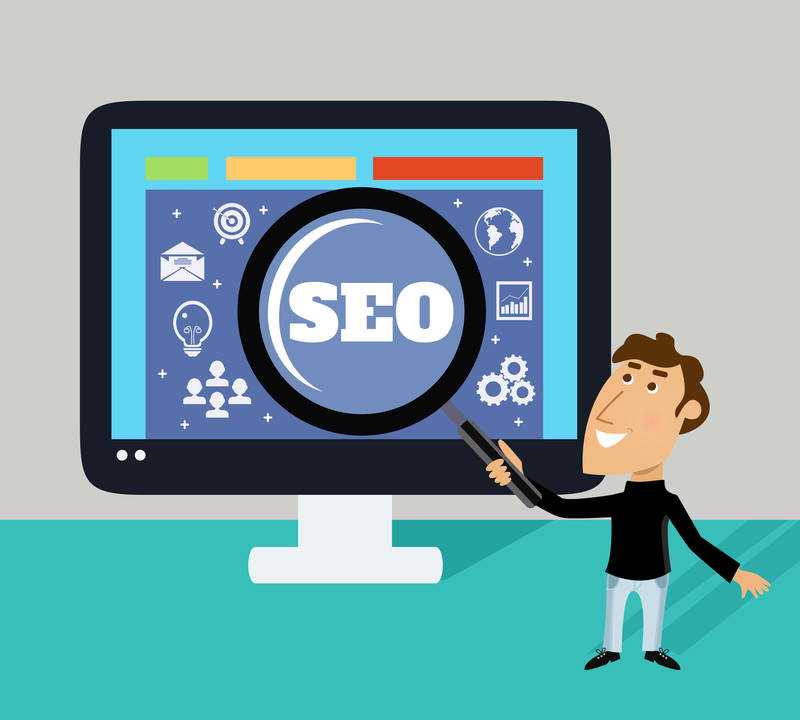 Business owners trying to compete in this highly competitive market usually find themselves facing a dilemma with their digital marketing campaign, particularly on deciding which particular tool they will use and focus on. There are several sources of website traffic available and many still don't know which particularly source would work quite well with their kind of business and which will bring them favorable results.
Many business owners, particularly those owning small and medium enterprises, really do not have the marketing and advertising prowess large multinational companies have and would naturally resort to one that will cost them the least. That is why many go for Search Engine Optimization (SEO) option thinking it has a "free" price tag attached to it. But is SEO really worthwhile for your business? Would it be worth investing your time and resources?
In order for you to rightfully decide on whether you will focus on SEO as your main digital marketing channel, it would be best for you to weigh all the pros and the cons first. Digital Marketing Philippines presents this in-depth look into the advantages and disadvantages of SEO, serving as a guide that will help business owners make a more informed decision for their digital marketing campaign.
The Pros of Using SEO for Your Business

1.  SEO Delivers A Continuous Flow Of Free And Targeted Traffic
 
Have you ever wondered how many searches are made at Google on a yearly, monthly and daily basis? Sources estimated that there were probably more than 2.2 trillion searches made in this search engine for the whole year of 2013. That's roughly 5,922,000,000 searches made each day. SEO can help you tap into this gigantic source of continuously flowing, free and targeted traffic.
 
"Free" in a sense that you really do not pay for traffic and traffic generation directly in the same manner that people do when using paid advertising channels like PPC advertising via Google AdWords. Your cost will significantly reduce if you perform all other SEO activities like link building and content generation.
 
2.  SEO Gives Your Business Exposure To People Who Are Looking For A Solution
 
One of the main reasons people use the Internet particularly search engines like Google is to find a solution to an immediate problem, issue or concern. In their search for the answer or solution, web users click on various links they find in the Internet, 70% of which are from organic results they received from using search engines. When SERPs (Search Engine Results Pages) are returned, up to 40% of these users will click on the first items on the results list while 70% to 80% will simply ignore paid listings and go for the organic results.
 
3. SEO Generates Traffic That Have A Good Chance Of Converting
 
The Search Engine Journal reported that leads generated by SEO can go as high as 14.6% close rate which is a lot better than the 1.7% close rate you can generate from email marketing or print advertising. Depending on their industry niche, online users have different behaviors on which particularly area in search results they would most likely click which can have a big impact on conversion.
 
Users from Industry sectors like finance, insurance, airlines and broadcast media have an 81% to 93% likelihood of clicking the first three search results, while users from the electronics and computer niche do so at 44% as shown in the Natural CTRs by Vertical chart below. This will provide for you some insight of how important it is to rank in SERPs if you intend to receive a substantial amount of click generation and target conversion.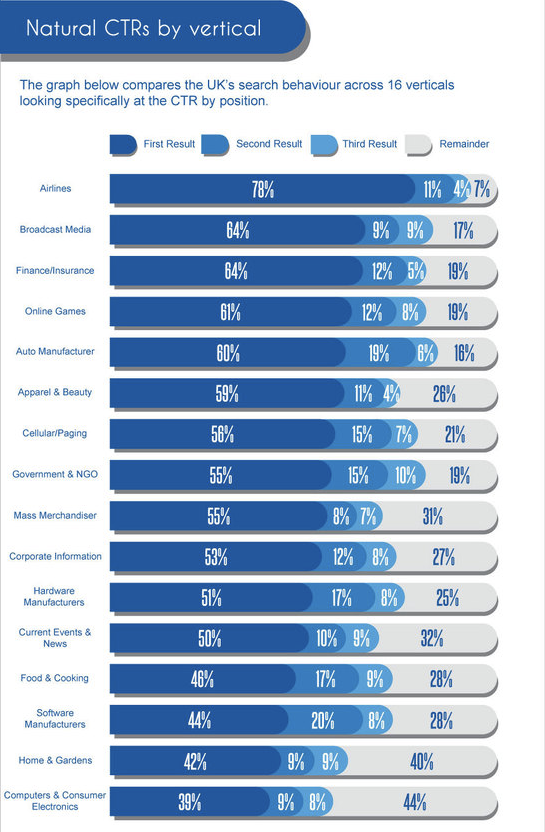 4. SEO Can Help You With Business Growth
 
The Internet is a really, really big place and the key to business survival in this marketplace is to secure a good online presence with your websites and other social channels. SEO plays a major role in securing a good online presence, allowing your business increased visibility to up to 59% of consumers who are using the search engines like Google to look for a local brand or business.
 
Without online visibility, your targeted consumers will never find you. SEO ensures that this will not happen and provide you with a strong online presence that will usher in better business growth.
 
5.  SEO Sets You Up As An Authority In Your Niche
A strong online presence and great content for your website can deliver to you good ranking positions based in the keyword in search results. Once you get good ranking, you will then establish yourself as an authority in your niche, developing the trust of your targeted audiences, resulting in an even more likelihood for conversion as leads or sales.
The Cons of Using SEO for Your Business

1.  SEO Results Will Take Time
 
Probably the most noticeable drawback in using SEO for business is the very slow time-frame for generating tangible results from all your efforts. Success in digital marketing lie not only in simply establishing your website but in getting a good hold and presence in search engines. The process involve getting your content indexed by search engines which could take several hours, days or even weeks. If you want or need immediate results from your campaign, then SEO may not be a good route for you.
 
2. SEO Will Take A Long Time To Get An ROI
 
If it takes a long time to generate substantial results from your SEO efforts, then it will also take a long time to achieve a good Return of Investment (ROI) from all your efforts. This may not be favorable for small businesses that needs substantial revenues in the short term, which they will use as revolving fund to sustain their continued operations.
 
3. SEO Will Require A Big Investment For Competitive Niche
 
Unless you do everything in your SEO campaign like attracting backlinks and producing content, SEO really is not a totally "free" digital marketing tool. You may most likely end up soliciting and hiring external help to build all organic links and other SEO marketing activities if you really want to generate substantial results from all your marketing efforts. This is particularly truer if you are operating and marketing in a very competitive niche.
 
4.  SEO has no guarantee for results (especially 1st page ranking)
 
Landing on the first of Search Engine Results Pages will be one of the most important goals you should plan to achieve with your SEO. For landing on the first page is really what matters in search results, as 75% of search users will most likely never scroll past this very first page and disregard the rest. SEO provides no immediate guarantee that you will land in the first pages of search results using the keywords you are targeting for.
 
5.  SEO Provides You No Full Control
 
No one really knows the true ins and outs of Google's algorithms. What you think matters in search rankings (and what so-called gurus are suggesting) may deliver results that are opposite from what you are expecting. Only Google knows and so only Google has full control. You have no control of how much traffic you will generate and what type of traffic you will be getting from all your SEO efforts. It's totally different from paid marketing where you will be getting results commensurate with what you paid for.
 
6. Risk of being penalized
The chart below is a snapshot of updates already performed with Google's search algorithms over the years. Fancy names like Panda, Penguin and Hummingbird came out with these updates and many digital marketers efforts poured into their SEO campaign over the years crumble literally overnight because of being penalized from what these new changes require. As a digital marketer, this can be a very painful experience, seeing all that you've worked so hard for swept away – leaving you building from scratch once more in a bid to regain your SEO pedestal.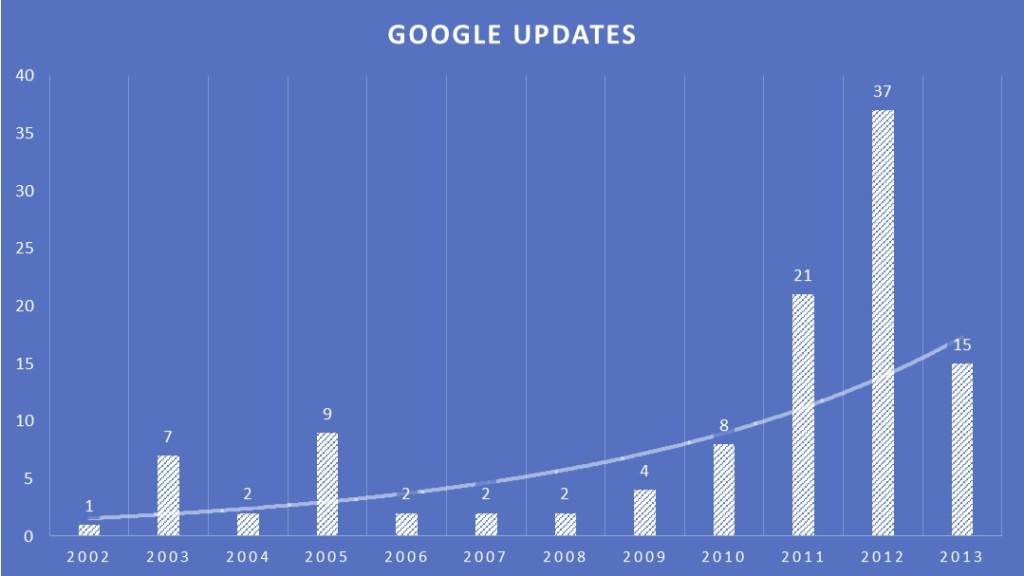 As mentioned earlier, SEO remains the top source of traffic for many websites and should still be part of your overall digital marketing campaign. However, the pros and cons presented here will give you a much better insight of how you can make use of SEO in a better context. This will leave you with a choice of whether to focus more efforts in this channel, or maintain a better balance between SEO and other digital marketing tools – all geared towards achieving your overall business goals.
Jomer B. Gregorio is a well-rounded expert when it comes digital marketing. Jomer is also known as a semantic SEO evangelist and practitioner. Check out our Digital Marketing Services today and let us help you in achieving positive and profitable results for your business.