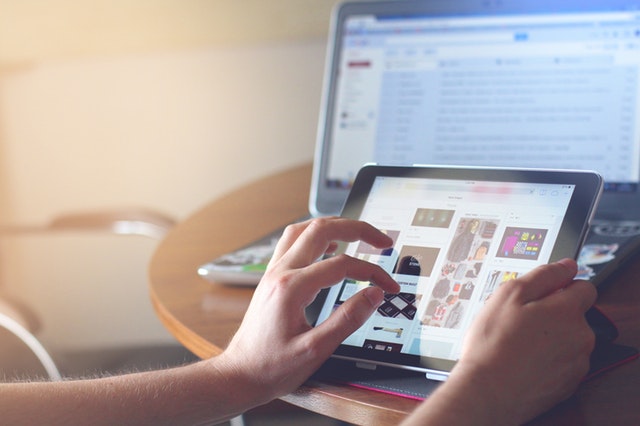 From the time the first search engine, Archie, was created in 1990, to the launch of today's most popular search engine Google in 1997 – the search technology has become more advanced, sophisticated, and smarter. Thanks to the advances in personalization, mobile technology, natural language processing, and multimedia results, search engines nowadays can deliver any kind of information in any format more accurately – regardless of the keywords and device used.
However, with the rapid development in artificial intelligence and machine learning comes a new feature that has already started to gain traction among users and is set to change the way people conduct an online search in the years to come – the Visual search.
Read on as we discuss in this infographic what visual search is all about, and how it will change the future of the search landscape.

What Is Visual Search?
Visual search is a feature that is currently being developed by major search engine companies such as Google, Bing, and Pinterest and is rapidly being integrated into many retail mobile applications as well.
To clarify, there has been an existing search engine function that allows the user to upload and reverse search an image. However, the type of technology that most search engine companies are developing involves pixel-by-pixel image search that will enable the user to snap or upload a photo to discover more information about it or even just about a specific part of the image.
One example of this technology is Google Lens. Launched in 2017, AI-powered visual search tool from Google also uses deep machine learning to not only detect an object but also understand what it detects and offer actions based on what it sees.
Although still in the infancy stage, visual search usage has seen a significant increase over the past recent years. According to 2017 report from Moz and Jumpshot, 27% of all searches across 10 major web properties being for image search. Pinterest also reported that 600 million combined monthly searches were conducted using their Lens technology in February 2018, indicating a very strong market for this new search tool.
Why People Use Visual Search?
In this age of impatience where consumers desire for speed and ease has risen exponentially, visual search provides the instant gratification that searchers by delivering the information they need at a moment's notice. With visual search, people can now find a review of the product they found on the local store, identify what kind of trees are nearby, or find a similar restaurant in the area – all by just uploading or taking a photo of the object on the spot.
Aside from instant gratification that it provides, visual search also appeals to our senses more than plain text. Humans are visual creatures; 90% of information transmitted to the human brain is visual, according to MIT.
Add to this fact that visual search tools are more interactive than traditional search – it is more fun to use than entering textual queries and allows the user to experiment all without having to undergo the same thought process of conducting a text-based search. No wonder why 62% of millennials want visual search over any other new technology arising these days.
Visual Search – How It Impacts SEO?
Search engines like Google, throughout the years, has made significant developments to further improve their search engine capabilities in order to provide a satisfying search experience to their users. Visual search, just like other search tools introduced before, still aim for the same objective.
As search engine companies develop and make this technology more accessible to consumers, it is imperative for companies using SEO to rethink the way they optimize their visual assets for search. This is especially important for retail companies, where the majority of customers conduct reverse showrooming, i.e., visiting retail showrooms to view and select products which they will later purchase online.
The good is that most SEO practices still apply to this kind of search platform. This includes using alt-tags, schema markup, image optimization, and metadata.
Metadata, in particular, will still continue to play an important role in the SEO even as visual search engines develop and change the way people search. This is because metadata holds the information of both web pages and images, and it is still what semantic search engines use to determine what an entity (text, image, video, etc.) is all about and how it relates to other entities that the search engine have crawled, indexed, and ranked.
While it is unlikely that visual search will make text-based search obsolete, they will likely become just as popular as the latter. As such, it is crucial for businesses to fine-tune their SEO techniques and ensure that they are up-to-date and relevant so that they can keep up with the rise of visual search.
Simple Strategies to Optimize for Visual Search
In his Search Engine Land article, Jim Yu provided some actionable strategies digital marketers can use to optimize for visual search.
Add multiple images to each product or topic page.
Consider adding raster images and include message and call to action in the photo.
Upload image XML sitemaps and keep the product the inventory updated.
Maintain logical site hierarchy and ensure strategic internal linking.
Host images in authoritative pages that respond to specific user intent.
Use keyword categories and themes of your images to optimize alt tags, titles, and captions.
Develop a unique brand aesthetics across all visual assets to help search engines relate your brand to a particular
Tailor stock images to ensure they are not identical to the hundreds of similar images on the internet.
Conclusion
Indeed, visual search technology is one of the most exciting innovation in the field of search this 21st century. While there are still a lot of improvements to be made, there is no denying that visual search has already caused for the online search behavior of the modern consumers to shift. For brands using SEO, this means that they must revitalize their efforts on visual content marketing and image optimization in order to avoid being left in the dust by more forward-thinking competitors.
Jomer B. Gregorio is a well-rounded expert when it comes digital marketing. Jomer is also known as a semantic SEO evangelist and practitioner. Check out our Digital Marketing Services today and let us help you in achieving positive and profitable results for your business.