Even before the Covid-19 pandemic, people already relied on internet-connected technology and services. But this was amplified when lockdowns caused mobility limitations, and consumers had to depend on digital platforms and facilities to complete tasks and transactions. And people only continue to spend more time engaging in online activities.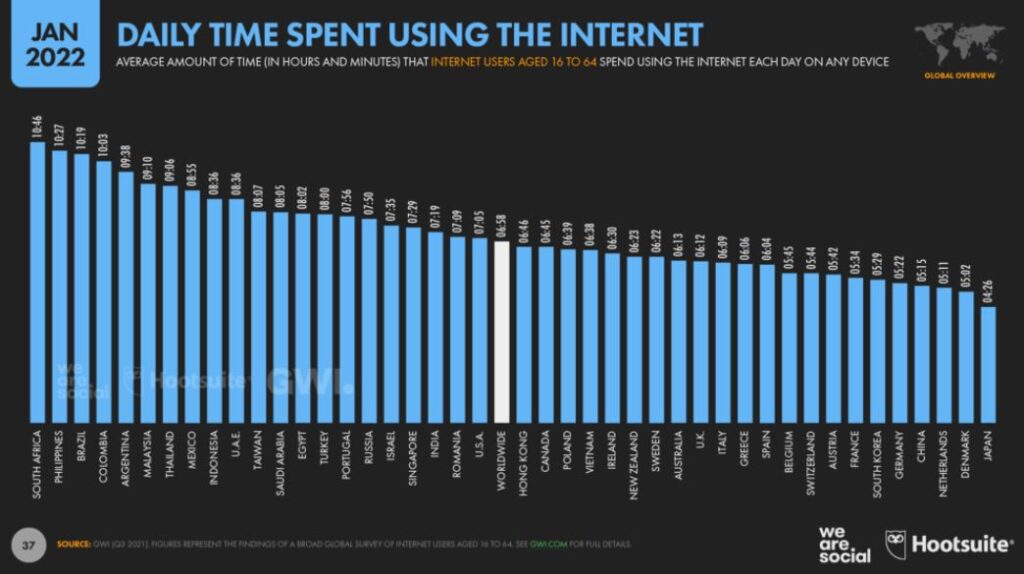 This image is taken from DataReportal.
According to DataReportal's Digital 2022: Global Overview Report, people spend an average of 6 hours and 48 minutes per day surfing the internet. This shows how digital platforms have become a critical channel for digital marketing. They represent an excellent opportunity for businesses to reach and connect with their target market. For example, having a website establishes the enterprise's presence on the web and opens them to various chances of engaging new potential customers.
A website gives your business the perfect platform to interact with customers. It allows the firm to establish its brand's story and differentiate itself from rivals. Online, customers may interact with the brand more personally while also learning about who you are as a business.
However, creating a website is not enough to establish yourself as competitive in digital markets. Companies have to improve their user experience and take the initiative to generate leads. The site visitors' experience using the platform will influence their impression of the brand.
Enhancing user experience (UX) entails understanding the target market, their needs, values, abilities, and constraints. When designing a website with the user experience in mind, the goal is to guide visitors around your business in a way that communicates what you want them to see and understand at specific points in their navigation process.
Faster Site Speed and Customer Experience
The success of a website might depend on a number of variables. A successful website must have intuitive navigation, aesthetically pleasing design, high-quality content, site maps, etc. One critical factor in a website user experience is site speed. Suppose your website is aesthetically catchy and simple to use but loads slowly or even doesn't load at all. This will still affect the overall user experience.
Page speed measures how quickly your page's content loads. Even though site speed can appear to be a small technical concern, it actually has a significant impact on everything, from visitor retention to search performance. It greatly impacts how satisfied visitors are with your site and how many of them convert.
Pages with a longer load time typically have greater bounce rates and lower average time on the page. This demonstrates that users expect lightning-fast online experiences. So if your site takes a long time to load, they will likely click the back button or leave the page altogether. Conversely, a quick website might enhance users' general browsing abilities.
The problem with slow page speed is that it can lead to users completely leaving the website. Google discovered that bounce rates continuously rise as page load times rise. The difference between engaging and converting users and them leaving depends on a matter of seconds.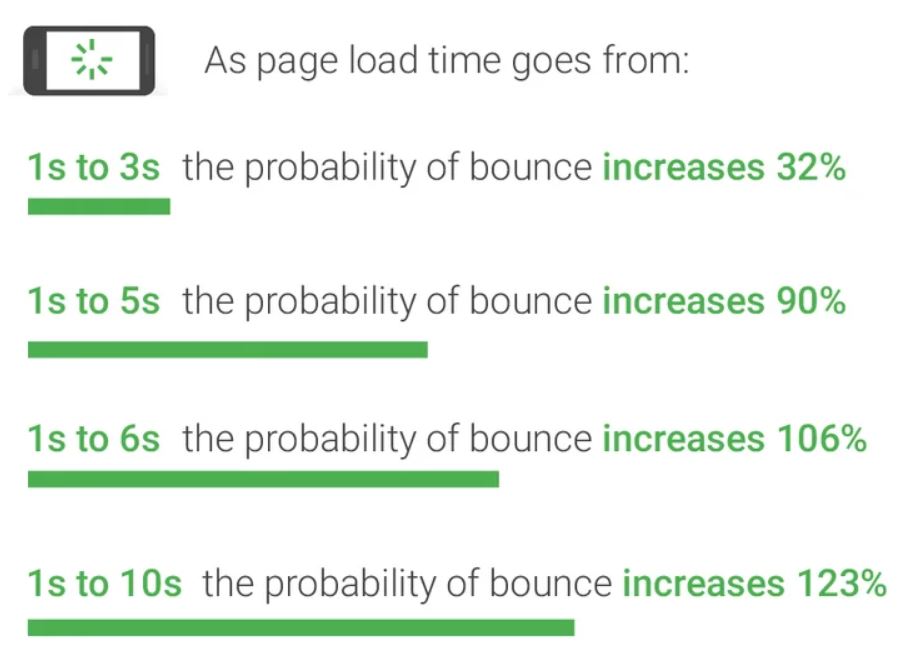 The image is taken from Think with Google.
Moreover, site speed and, subsequently, page speed has been recently identified by Google as ranking factors. The introduction of Core Web Vitals into Google's algorithm for evaluating websites for organic search rankings was announced in May 2021. This emphasizes the significance of website usability and user experience.
A quicker website will indirectly enhance ranks on every search engine that considers user experience, not just Google's Core Web Vitals. Search engines will recognize that users prefer your site over others if they notice that fewer users are returning to the search engine results page (SEPR) after clicking on your page. Indicators like Largest Content Paint (LCP), First Input Delay (FID), and Cumulative Layout Shift (CLS) will measure the page's performance and help Google rank your site accordingly.
Your users and your rankings on search results pages may benefit from improving your LCP, FID, and CLS. This can significantly increase page traffic and even place you on the first page of search results. It also enhances user experience and encourages favorable reviews, referrals, and repeat business.
Conclusion
Better user experience is made possible by faster pages, which can also boost views, conversions, and lower bounce rates. Marketers need to create positive mobile and web experiences and maintain user engagement.
Site speed optimization can help companies generate more website traffic and convert those leads more efficiently. Organizations can use a tool like Google PageSpeed Insights to evaluate your site and provide a baseline for your current page speed.
Furthermore, when planning to optimize the site, getting support from SEO services in the Philippines is ideal, especially for small businesses handling too many tasks at a limited capacity. Digital Marketing Philippines (DMP), an SEO outsourcing company, have the right tools, technical proficiency, skills, and experience to support businesses in boosting their digital presence through customized and well-planned strategies.
References:
https://www.thinkwithgoogle.com/marketing-strategies/app-and-mobile/mobile-page-speed-new-industry-benchmarks/
https://www.websitebuilderexpert.com/building-websites/website-load-time-statistics/#:~:text=You%20can%20think%20of%20site,bounce%20rates%20skyrocket%20to%2038%25
Jomer B. Gregorio is a well-rounded expert when it comes digital marketing. Jomer is also known as a semantic SEO evangelist and practitioner. Check out our Digital Marketing Services today and let us help you in achieving positive and profitable results for your business.