The pandemic amplified the need for digital transformation across many sectors. But while online platforms opened many new opportunities for businesses, companies simultaneously moving to the digital space increased the competition.
For example, various industries have long used search engine optimization (SEO) to drive organic traffic to their websites and improve their chances of making leads and conversions. However, SEO is a strategy that needs a thorough understanding of the work and requires proper planning and execution. Small businesses that are only starting to explore the online landscape might find it hard to compete with big brands and those who have been using the tool for a long time.
Fortunately, they now have various ways to increase their chances of success online, and one of these is through local SEO. If Google search results list the website on the third or fourth page, this strategy can significantly help the business appear in a better position.
What is Local SEO?
Local SEO applies search engine optimization techniques to improve a business's online visibility in specific locations. It is a component of SEO that may be utilized to draw in nearby clients and make it easy for them to get in touch with the entity.
Local SEO benefits any company with a physical location or services in a specific region. 97% of users use search engines to find local businesses near them. These individuals are potential clients looking for the services or products you offer in the region. If you improve your local SEO, consumers within the area can locate and engage with the business.
How to Optimize for Local SEO?
Use Keyword Modifiers
The proximity factor is part of Google's local search algorithm. It means that the search engine considers the searcher's location when using a local keyword or entering a query with local intent. An example of this is when searching "pizza delivery" or "hotels London." The algorithm recognizes these types of keywords as a query with local intent. In response, it will detect the user's location and display the most relevant results within the area.
This implies that the organization needs to find and optimize for these key phrases to be more visible in their locality. Strategies such as using geographic modifiers make your content more discoverable and relevant to the consumers within the area.
A geo modifier is a term that describes the local intent of a search query. A geo-modified keyword is a combination of an industry-related key phrase plus geographic location. The location modifier may be divided into city and state to provide even more pertinent keywords. Using this structure produces higher ROI since you aren't up against national enterprises or other businesses of a similar size.
Start Google Business Profile
One of the best strategies to increase an entity's brand awareness and improve its local SEO performance is to have your business included on review websites. An entity can start by claiming their company on Google Business Profile (formerly "Google My Business"). If the search engine recognizes the enterprise as genuine, it can also appear in the valuable sidebar area of a Google search.
Moreover, encourage users to submit reviews for your company after engaging with them. It is also good to reply to these appraisals. Responding to customer reviews demonstrates that your company appreciates its customers and the comments that they leave. The positive evaluations will also favorably influence potential clients' inquiries about your company.
Add Business to Google Map
Two organic sections are commonly activated and returned on Google's search engine results page (SERP) when a user conducts a local search. These are the search and map results, together known as the Map Pack. Positions in the Map Pack are highly competitive because they appear on the top of the SERP after paid ads, making the webpage stand out from normal others.
Google Maps is a key marketing tool for companies looking to amplify their online presence. However, its advantages can only be attained if the company listing is highly visible. Just because the company is listed in a particular location does not guarantee that Google will give it a particular ranking for searches in that location.
After adding your business to Google Map, claim your listing to provide more details about your brand, products, and services. A free Google Business Profile account is required to claim your company's presence on Google Maps. If you already have an account, just open your Google Maps business listing and choose the "Own this business? " or "Claim this business" option and follow the instructions. When adding information to the business listing, be sure to be consistent with the company name and address, use a local phone number, update operating hours, and write clearly the business description.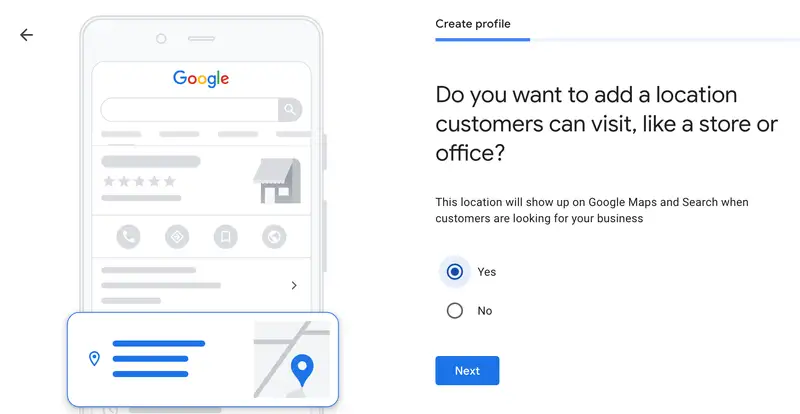 This image is taken from Business Insider
Engage on Social Media
Reviews on social media might also assist you in drawing in nearby potential clients. BrightLocal revealed that about 48% of consumers use social media to read or write reviews. Google now also places a greater emphasis on social network content.
This image is taken from BrightLocal
Google will view the company as more reliable if all critical information is the same across all of your digital platforms. It also helps to geotag your posts or Stories to improve the visibility of your local profile.
Local SEO Strategy for Better Visibility
It is a major challenge for small enterprises to determine what they can achieve with their limited resources. Leveraging strategies such as local SEO strategy can make a highly-optimized website stand out among the sea of competitors. And with the help of the right support team, with members who are well-versed in SEO, the business can be on the way to achieving its goals.
References:
https://moz.com/learn/seo/local
https://www.cofmag.com/importance-of-local-seo-in-2022/
https://mailchimp.com/resources/what-is-local-seo/#:~:text=Any%20business%20that%20has%20a,help%20you%20grow%20your%20business.
https://www.wordstream.com/blog/ws/2020/07/02/how-to-rank-higher-on-google-maps
Jomer B. Gregorio is a well-rounded expert when it comes digital marketing. Jomer is also known as a semantic SEO evangelist and practitioner. Check out our Digital Marketing Services today and let us help you in achieving positive and profitable results for your business.