There is a wide array of platforms that brands use for their digital marketing strategies – from traditional channels like TV, radio, and print to digital ones like websites, mobile apps, and social media. They leverage these platforms to vie for audiences' attention and direct them to conversion.
Over the years, it has become more challenging to meet consumers' changing demands and align online content with what connects with them effectively. People have long been exposed to recurring, short-form marketing messages that tell them where and how to buy. Although this strategy serves its purpose, the narrative has shifted drastically over time.
Today, consumers have gone past being told the where and how. What they need is content that will convince them why they should buy and why they should choose that brand.
Modern consumers are growing more conscious of brand values and practices, and they want a company that resonates with their ideals. A recent study reveals that about 72% of consumers believe in the importance of purchasing from businesses reflective of their values. In 2020, more than three-quarters of customers expressed making a values-based buying decision, according to another survey.

This image is taken from Adweek.
With short-form content, it is often easy to get lost in translation and cause a disconnect with consumers, especially if the brand is trying to convey a story. Beyond communicating the product and price, companies need to leverage long-form storytelling with an engaging narrative.
What is Long-Form Storytelling?
Long-form storytelling refers to a more extensive format of content such as blog posts and videos. Here, the goal is not only to tell a story but to make sure it is compelling enough to captivate the users' attention and retain their interest. Regarding video content, there is no standard cutoff between short-form and long-form video length. Nevertheless, some suggest that ten minutes is the differentiating factor, while others say that going past the two-minute mark is already indicative of a long-form format.
Integrating brand videos into marketing campaigns has been a great part of industry practices. And it only makes sense, considering that 95% of viewers are more likely to remember messages they watched from videos. This is compared to 10% when it comes to retaining information from reading text.
Going beyond short ads that typically last anywhere between three to twenty seconds or ads that plainly introduce product or pricing proves advantageous in the long run. In an ever-evolving marketing landscape, brands are no longer just advertisers but are becoming experts in their niches and entertainers and storytellers for audiences.
Significance to Consumers
Although consumers often dislike watching long advertisements, they are willing to watch a long-form video from brands as long as it has great content and exudes transparency. People are likely to engage more with longer videos as long as they find them interesting, relatable, or provide relevant information.
According to Wyzowl, a staggering 96% of people watch videos to learn more about a company and its offers. This year, it is anticipated that more consumers – 88% for that matter – will want to see more video content from brands.

This image is taken from Wyzowl State of Video Marketing Report 2022.
Long-form storytelling demonstrates the business's efforts and investment in improving their means of communicating their commitments to customers. Through it, people can learn more about the brand, its values, advocacies, and what it stands for. No individual wants to feel that the business they support is hiding something from them or deceiving them. A genuine and transparent narrative allows consumers to see the company's merit, creating a sense of trustworthiness and loyalty.
What Does it Mean for Digital Marketers?
If brands can retain audiences' interest with a long-form video, it means they are on the right track with their campaign.
By attracting new prospects and fostering trusting customers, businesses can turn them into long-term clients to expand their customer base. Moreover, this allows digital marketers to reach their marketing goals and generate targeted results more effectively.
Using video content as part of brands' digital marketing efforts has seen an upward trend in recent years. Marketers believe that it produces a generally good return on investment (ROI). And with the wide-scale and rapid transformation to digital operations amid the COVID-19 pandemic, more have invested in this strategy to seek better outcomes for their companies.
Many became first-time video marketers in the past year, with 46% saying that it had become easier to persuade people into the business because of the video content's value.
Additionally, about 86% of marketers expressed that they were able to increase lead generation by using videos, while 96% stated that this type of content has helped them boost brand awareness.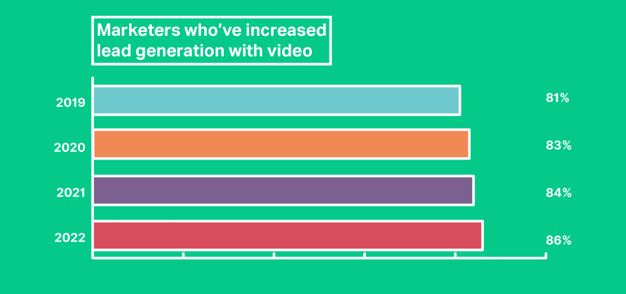 This is taken from Wyzowl State of Video Marketing Report 2022.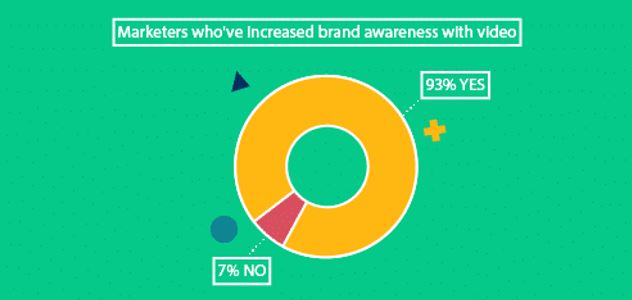 This is taken from Wyzowl State of Video Marketing Report 2022.
Implementing the right techniques and following the ideal steps enable digital marketers to leverage long-form storytelling to give consumers the kind of video content they are willing to watch and engage with. It also opens the opportunity to create evergreen content that will serve the business for the years to come.
In addition, long-form storytelling presents a secondary opportunity for brands. They can create snippets from these longer videos and post them on other channels like Instagram and Tiktok. This makes a broader room for dissemination, allowing the company to reach more people and capture their attention.
The Takeaway
Long-form storytelling allows brands to establish a more personal and robust relationship with consumers. While short-form content can help introduce a company's name, making successful long-form content can help customers remember the brand better and evoke a feeling that makes them want to keep supporting it.
Developing the right digital marketing strategy around long-form storytelling is an effortful process but one that generates favorable results. To create an authentic marketing message for consumers, marketers should ensure that the narrative gives enough focus to the customers while highlighting the brand's values. They need to pay attention to what the audiences want, harnessing valuable insight that effectively connects the business and the consumer.
References:
https://www.adweek.com/sponsored/consumers-are-declaring-their-social-values-through-purchase-decisions-are-you-listening/
https://www.digitaldoughnut.com/articles/2021/december-2021/long-form-storytelling-the-new-paradigm
https://corp.smartbrief.com/original/2021/04/how-brands-are-leveraging-long-form-storytelling
https://www.dacast.com/blog/long-form-video/
https://www.wyzowl.com/video-marketing-statistics/
Jomer B. Gregorio is a well-rounded expert when it comes digital marketing. Jomer is also known as a semantic SEO evangelist and practitioner. Check out our Digital Marketing Services today and let us help you in achieving positive and profitable results for your business.