Over 4.7 billion prospective clients utilize social media platforms worldwide. And according to Statistica, people spend an average of 147 minutes a day on these networks, whether to get in touch with friends and family, watch streams, or find products to purchase. This means that businesses have an opportunity and can use these channels for marketing their goods and services to a wide range of people.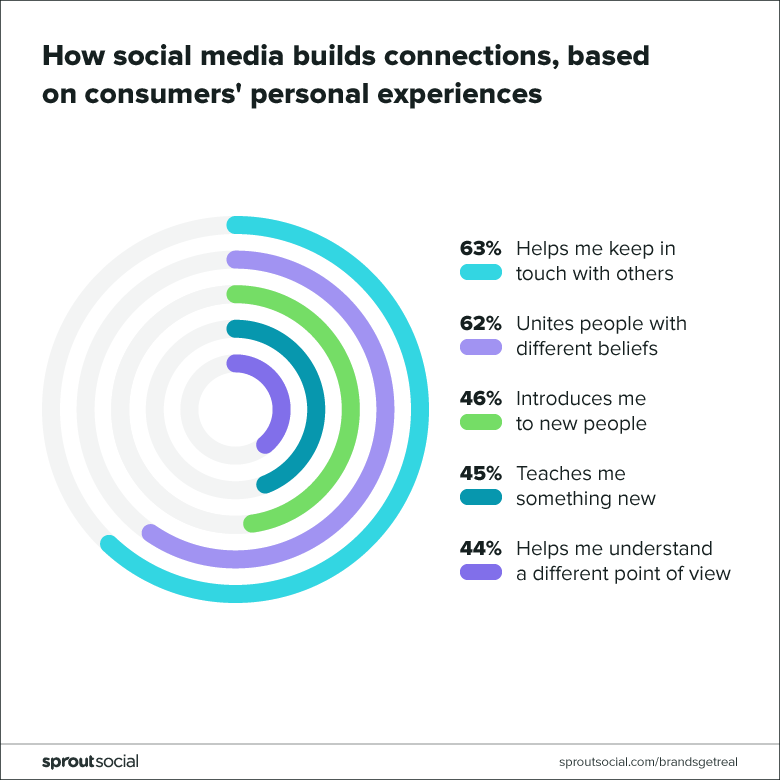 This image is taken from Sprout Social.
Social media marketing is an effective method to connect with clients and prospects. If you are not using social media sites like Facebook, Instagram, or LinkedIn, you're missing out on the opportunity to engage your target market. When you outsource social media marketing, you help your company achieve extraordinary success by generating loyal brand supporters, leads, and even purchases.
However, there are numerous social networks today. Knowing the top channels will give you an idea of where to focus your social marketing campaigns. Here are the top social media platforms to watch out for in 2023.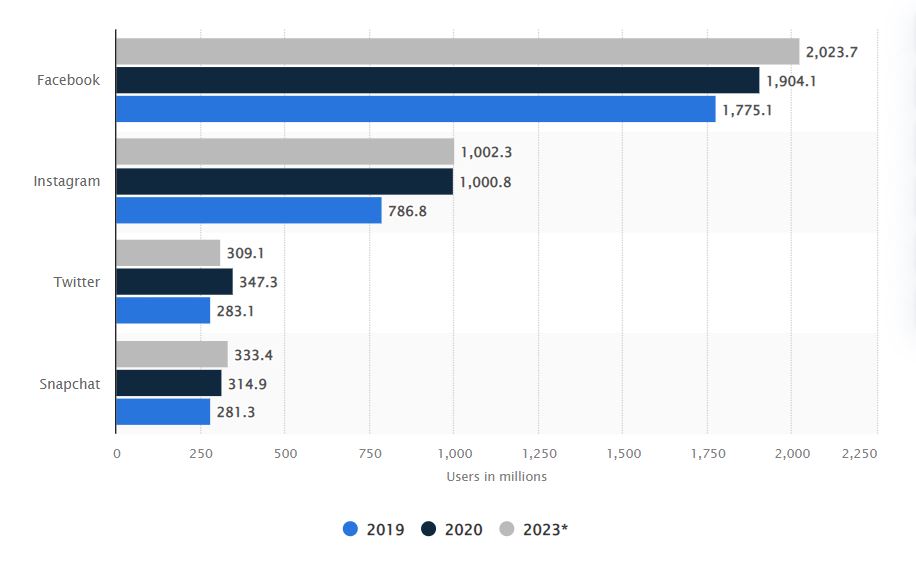 The image is taken from Statistica.
Facebook is expected to garner 2.63 billion users by 2023. Your potential clients are almost certainly using Facebook actively to communicate with their loved ones, friends, and favorite brands. An active Facebook page makes your products and services more accessible to the public. With it, people can locate your company online, find out more about it, and engage with you through your page.
You can do various posts to make the most out of Facebook's popularity. The most fundamental type is text updates. Although it might be the least prominent on the News Feed, it is the simplest to produce. Adding multimedia to an article will help it stand out.
Moreover, video posts currently appear to be this channel's most common and interesting format. Contests and giveaways are another way to boost interactions and interest in your promotions.

This image is taken from FinanceOnline.
The amount of time and resources you have will largely determine how frequently you update your page. Start with one daily, up the frequency, and keep an eye on how it affects your reach and audience engagement.
YouTube is the second-largest social media site in the world, with over 2 billion active users each month. Consumers are increasingly using YouTube for entertainment, education, and product research. Using this channel for marketing can raise the company's brand recognition, strengthen partnerships, improve SEO, and generate high-converting visitors.
Marketing strategies you can employ on YouTube include the following:
Creating original video content
Partnering with influencers
Running video ads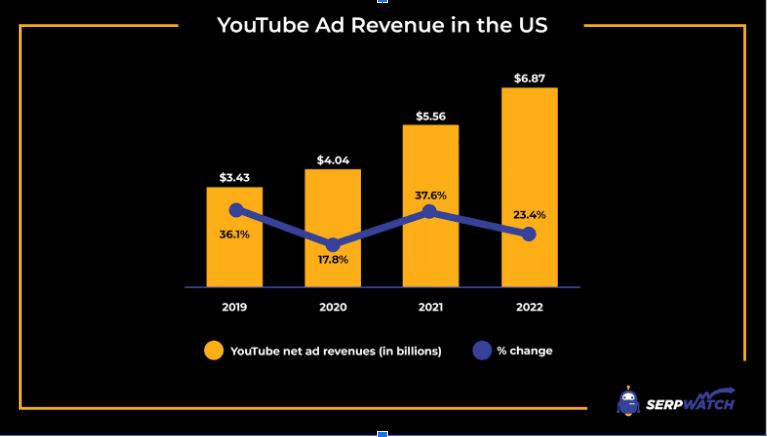 This image is taken from SerpWatch.
You can also promote your company by releasing material such as product reviews, how-to videos, explainers, and video advertising. Employing strategies like visual branding and brand voice consistency may aid in making your brand memorable.
Creating a Snapchat brand presence is now a wise investment. The platform is a popular messaging application for sending texts, photographs, and videos. A few of its features include:
Memories (saved files for later viewing and sharing)
Stories (pictures or videos that can be replayed for 24 hours)
Filters
Stickers
Because there is less competition, you have a better chance of standing out. There is no algorithm that conceals your posts. If users add your company as a friend, they will be able to see that you've posted a Story and play it. Lastly, there aren't many advertisements and links that deter visitors from viewing and engaging with your material.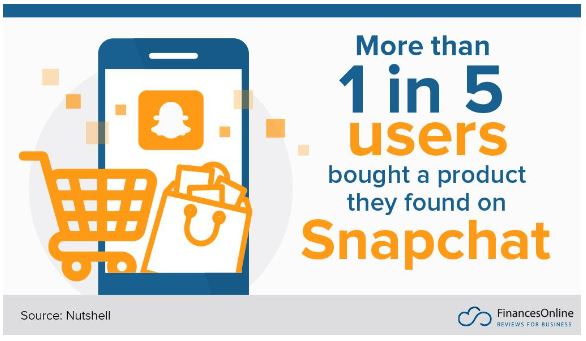 This image is taken from FinanceOnline.
However, Snapchat users want the real, unrefined face of your brand and demand behind-the-scenes information they can't get anyplace else. Over 70% of consumers claim that they only interact with brands through individualized marketing communications; therefore, this strategy keeps customers more invested in a company.
This image is taken from HubSpot.
Instagram is a mainstay of the marketing strategies of many small businesses, and for a good reason. With a big and diversified audience of 500 million daily Instagram story users and over one billion monthly active Instagram users, it has a high level of engagement.
It's also important to note that Instagram assists e-commerce firms and merchants convert interactions into purchases. Instagram's algorithm shows your content based on the user's app usage and interests. This makes it simpler for you to connect with Instagram users who are likely to interact with your business. It also increases the effectiveness of your Instagram marketing campaigns.
TikTok is popular among marketers because it exemplifies a significant social media trend for young audiences' creative abilities and teamwork. Users consume an average of 52 minutes each day using the app because of its fast-paced nature, which keeps them interested for an extended period. Companies can employ various strategies, such as influencer marketing, TikTok advertising, and the production of naturally viral content to establish brand recognition.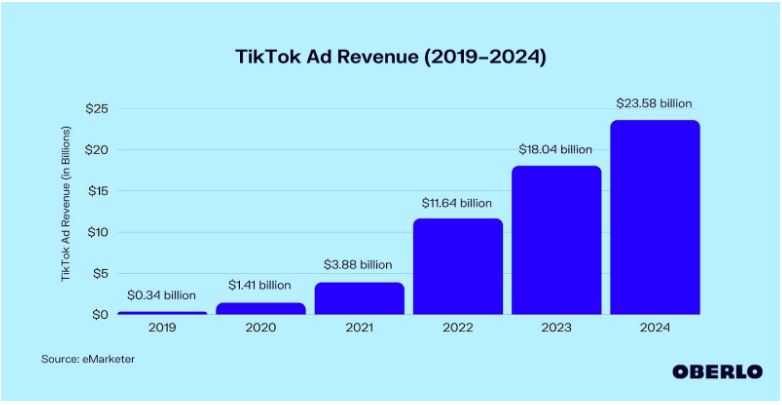 This image is taken from Oberlo.
In contrast to other social media sites like Instagram and YouTube, TikTok accounts with no followers can still receive millions of views on a new video. This is because of the channel's unique algorithm. Engagement will come as long as the material is interesting to the target audience.
Twitter is another channel that gives businesses the opportunity to grow their brand awareness, sales, and conversions and draw in new followers and leads. It has over 300 million active monthly users, which helps companies reach a wide pool of potential customers.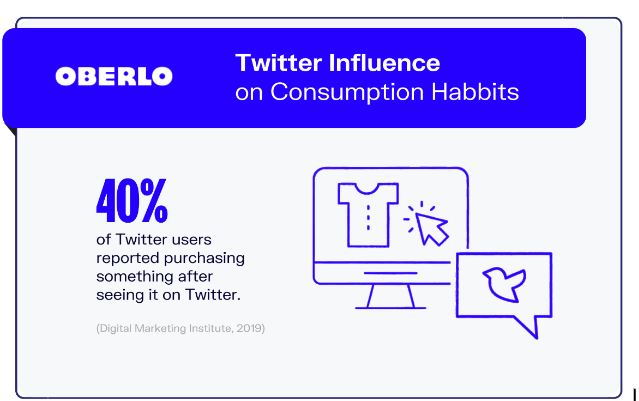 This image is taken from Oberlo.
Making buyer personas for your target clients is the first step to starting a Twitter marketing strategy. After understanding their needs, the next phase is to start creating content for your chosen audience. You can refine and improve your plan and discover your brand voice by tracking how well your tweets work.
Tweet client testimonials and supportive tweets. This contributes to the social evidence that actual people use, purchase from, and are familiar with your business. You can also repost consumer content on your Twitter account even if it was originally posted on Instagram. Don't forget to provide a link to the product page and tag each client you repost.
Conclusion
People scan through social media applications for endless hours every day. So if you are not taking advantage of this and grabbing their attention in their feeds, you may lose out on many opportunities. Social media platforms offer a great avenue for sharing information about your business expertise. A social media management agency Philippines can help you build a strong online presence and improve client engagement.
References:
https://sproutsocial.com/insights/build-customer-relationships/
https://neilpatel.com/blog/shared-the-most-on-facebook/
https://www.statista.com/statistics/272014/global-social-networks-ranked-by-number-of-users/ https://www.wordstream.com/social-media-marketing
Jomer B. Gregorio is a well-rounded expert when it comes digital marketing. Jomer is also known as a semantic SEO evangelist and practitioner. Check out our Digital Marketing Services today and let us help you in achieving positive and profitable results for your business.