In the digital age, a company website is not only essential; it is standard. Setting up web pages is integral to a brand's online presence. This is why many companies invest a large portion of their marketing budget for services in web design Philippines to optimize their site.
Even though social media is an adequate alternative, a company website opens numerous opportunities businesses should not miss. It can significantly enhance audience engagement and brand visibility.
But with many sites competing in search results pages, how can you make yours stand out? Two critical components make a website rank well: web design and SEO. These two work together to build web pages that attract consumers and encourage them to revisit.
Web Design
A site's web design refers to its visual elements, layout, and structure. And all these must be designed in a way that creates a pleasant user experience for visitors.
Excellent page experience is dictated by speed, responsiveness, stability, and navigation. Digital marketers should consider these factors carefully when creating their websites. A slow, unresponsive, laggy, and confusing web design can make the company site ineffective and could even lead to a negative perception of the brand.
Web design also plays a significant role in ranking. Google, like other search engines, takes into account speed, responsiveness, stability, and navigation in prioritizing sites on SERPs (search engine results pages).
You can evaluate your site's web design by observing organic traffic, bounce rate, and conversion. Google specifically looks at a site's Core Web Vitals to distinguish good web design. This set of metrics signifies page experience, which is considered when ranking websites and pages.

This image is taken from Search Engine Land.
Aside from metrics, a good web design positively influences how visitors perceive your brand. Consumers consider the company's website to form an opinion of them. In fact, some findings corroborate how web design influences consumer behavior, such as the following:
75% of users admit to making judgements about a company's credibility based on their website design.
85% of B2B customers search the web before making a purchase decision.
94% of website users' first impressions are design-related.
Overall, a well-designed website is centered around providing the best user experience while allowing consumers to get to know the brand and its offerings.
Strategies for a Well-Designed Website
About 55% of website visits come from mobile devices. With this statistic, pondering mobile users is a necessary marketing strategy. Creating a mobile-friendly version of your website ensures that it is viewed at its best and can cater to a wider range of users.
Google also observes mobile-first indexing. They use the mobile version of the site to uncover its contents and index it. A site's mobile version is now given priority over its desktop version, as mobile usage has surpassed desktop usage in online searches.
A great web design heavily considers navigation. Clear and intuitive navigation enhances usability, reduces confusion, and encourages visitors to explore more pages on the website. It helps users find information quickly and effortlessly, resulting in a positive user experience.
Metadata provides concise information about a webpage's content to search engines and users. Optimized metadata can improve click-through rates, increase organic traffic, and enhance user engagement by including relevant keywords and compelling descriptions.
Search engines also consider metadata when determining the relevance and quality of a webpage. Well-optimized metadata helps search engines understand the context of the page, which can contribute to higher rankings in SERPs.
Hire a Professional Web Designer
Professional web designers possess the expertise to create visually appealing and functional websites that align with the latest design trends and industry standards. It can be a complex task on your own, and creating your own in-house department can be more expensive.
Opting for web design services Philippines is a great way to streamline web design, allowing you to benefit from your investments quicker. Professional web designers also deeply understand SEO principles, so they can optimize website elements to appease the search algorithm.
Search Engine Optimization (SEO)
If you want a higher site ranking, SEO is the way to go. SEO aims to improve page rankings by implementing a set of practices that optimize a site's elements to appease search engine algorithms.
Outside of SERPs, SEO also creates tactics to increase organic traffic, improve page experience, and enhance brand visibility. The most common SEO offerings include keyword research, on-page optimization, link building, and web design optimization.
Aside from having good web design, an SEO-powered website has analytics and tracking. These can give companies useful information about their target audience, helping them optimize their marketing strategies further.
Furthermore, SEO involves creating relevant and high-quality content, quality backlinks, keyword rankings, and social media integration.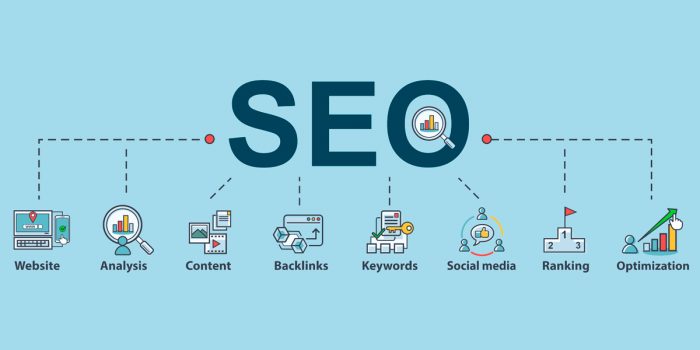 This image is taken from Digitalspot Academy.
SEO Services to Rank Higher
Keyword research is the process of identifying relevant and high-traffic keywords related to your business. Including keywords in your website's content, meta tags, headings, and URLs increase the chances of ranking higher in search results.
Proper keyword optimization helps search engines understand the relevance and context of your content, leading to improved visibility and ranking.
On-page optimization involves various elements on your website. This includes titles, meta descriptions, header tags, and an internal linking structure. Properly structuring and optimizing your on-page elements provides search engines with clear signals about the content and its relevance, increasing the likelihood of higher rankings.
Technical SEO focuses on optimizing the technical aspects of your website to improve its crawling, indexing, and overall performance. It includes increasing website speed, fixing broken links, ensuring proper URL canonicalization, implementing structured data markup, and creating XML sitemaps.
Technical SEO helps search engines understand and index your website more effectively, improving visibility and higher rankings.
Link building is about acquiring high-quality, relevant, and authoritative backlinks from other websites. Backlinks act as votes of confidence and trust for search engines, indicating the value and relevance of your content.
When reputable websites link to your pages, it signals to search engines that your content is valuable and worth ranking higher. Effective link-building strategies like guest blogging can improve your website's authority and SERP rankings.
Creating high-quality, informative, and engaging content is essential for SEO success. By producing valuable content that addresses user needs and incorporates relevant keywords naturally, you attract organic traffic and encourage user engagement.
Well-optimized content also tells search engines that your website provides valuable information, leading to improved rankings. Regularly updating and expanding your content can also help keep your website fresh and relevant in the eyes of search engines.
Besides these, many SEO practices can help improve your site's ranking. Get ahead of the competition by implementing the most relevant strategies. Read about the SEO trends for 2023.
Build a Competitive Website Today
An excellently designed and SEO-powered company website can create great opportunities for your brand. Invest in professional web design and SEO services to give your web pages the best chance of placing on top of results pages. Even outside of SERPs, these two offer numerous advantages that can positively influence your company's bottom line.
Hire an expert provider. Consider Digital Marketing Philippines (DMP). We provide globally competitive digital marketing solutions for companies worldwide, whether B2C or B2B. Click here to check out our wide range of services.
Sources:
https://www.mtu.edu/umc/services/websites/seo/aaa
https://www.webdigitalauckland.co.nz/how-to-design-a-website-that-ranks-well/
https://www.semrush.com/blog/improve-seo/
Jomer B. Gregorio is a well-rounded expert when it comes digital marketing. Jomer is also known as a semantic SEO evangelist and practitioner. Check out our Digital Marketing Services today and let us help you in achieving positive and profitable results for your business.