More business strategies are emerging today, slowly changing how brands view social media and content marketing. Marketers now place more emphasis on figuring out how to build stronger relationships with their clients than on expensive traditional advertising.
It is now easier and more affordable for businesses of all sizes to attract, engage, and convert new audiences. And this is thanks to contemporary techniques like collaborative marketing that have revolutionized conventional best practices.
What is Collaborative Marketing?
Collaborative marketing is the practice of working together with other businesses to achieve a marketing goal. This might be something straightforward like a social media post or something complex like introducing a co-branded product. Typically, brands collaborate with companies or personalities that are compatible with the business and serve similar audiences. With support from social media outsourcing companies, brands can develop something special that appeals to a particular market segment.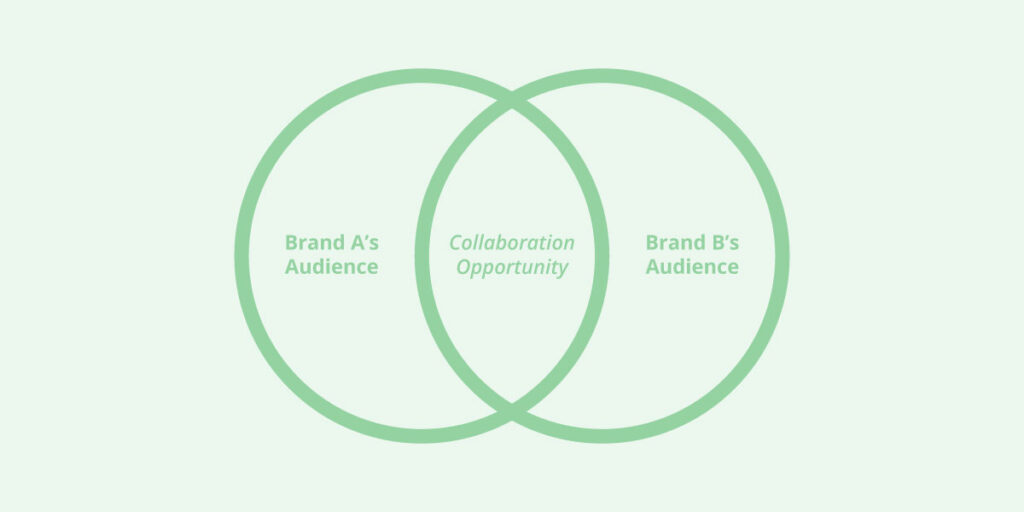 This image is taken from Loomly Blog.
One of the key elements of effective collaboration is finding a partner brand that shares your company's values and appeals to a comparable demographic. From there, you can develop and carry out joint-beneficial marketing initiatives.
The benefits of collaborative marketing include the following:
Access to a highly relevant audience
Positive brand association
Innovation in marketing and product ideas
Wide-scale interest generation
Different Approaches to Collaborative Marketing
Nowadays, most brands are present and engaged across various digital channels. This makes it simpler to interact with potential collaborators and work together in a way that benefits both parties.
There are also many options if you want to give joint marketing a shot. Here are five collaborative marketing strategies to boost your brand's online presence.
Collaborating With Competitors
Working with a competitor can give you access to data, analytics, trends, and fresh resources that are advantageous to both parties. Together, you can find new sales prospects, encourage cross-selling, and plan strategic marketing campaigns.
An example of this approach is the collaborations between H&M with high-end companies like Moschino, Versace, Giambattista Valli, and Simone Rocha. By making high fashion accessible to average consumers, H&M helps its partners gain more clients while also receiving the same benefit in return.
Social Media Account Takeovers
Social media takeover is a growing influencer marketing tactic. It is where a well-known social media personality takes control of your company's account and posts content on it on your behalf. Typically, account takeovers upload content as reels or stories.
Takeovers on social media can help you attract the precise audience you're looking for—people who require your product or service. Influencers can assist in exposing your brand to your ideal customers.
Collaborative Giveaways
Giveaways foster consumer loyalty, improve sales, and raise brand recognition. Cross-branding your next giveaway with a company that offers complementary products will increase its effectiveness.
Of course, you should also implement other techniques, such as requesting users to follow your page, tagging a friend in the comments, and sharing the giveaway on their own timeline. This will result in more users finding the giveaway promotion and visiting your page. In addition to sharing your items, this will also promote your company to its own audience.
Teaming with Influencers to Promote Product Launch
Collaborations with influencers are the ideal way to publicize the introduction of a new product on social media. The influencer's job is to spread the word about the new product, offer the most recent information, and reward customers who buy.
The correct influencers must be chosen if this collaborative marketing concept is to succeed. Customers can tell inauthentic material from real content a mile away; therefore, they must accurately reflect your brand.
Brand Ambassador Programs
Brand ambassador programs aim to create enduring relationships between your brand and the customers who patronize your goods or services. It usually has a specific objective, like raising revenue, boosting conversions, or improving brand recognition.
The ambassador will actively market your business to their social networks to achieve this goal. This can be offline (e.g., events or trade shows) or online (e.g., social media accounts or blogs).
Brand ambassadors are well-known people who utilize your company's products and spread the word about them online. The best thing is that they frequently already promote your company and may not cost as much money to work with as an influencer.
Sponsored Social Media Posts
Sponsored social media content is frequently identified as a #paid partnership. This is frequently carried out in combination with influencer partnerships. Sponsored content can increase sales and brand recognition while maintaining your trust and brand equity, especially when it originates from reliable influencers.
An influencer or celebrity will showcase a company or product in a social media post for which they have been compensated. The hashtags #ad or #sponsored must be used to mark these postings as advertisements.
User-Generated Content
Although this may not appear like a traditional "collaboration," this approach works just like any other partnership. User-generated content, or UGC, is unique content made by customers specifically for a business and shared on social media or other channels. UGC can take many forms, such as pictures, movies, reviews, recommendations, or even podcasts.
Here are some ways to encourage user-generated content:
Acknowledging or rewarding audiences for contributing user-generated content.
Showcasing fan content on the website's blog and then promoting it on social media.
Creating a prize for the winners of awards like "Top Comment of the Week" or "Top Comment of the Month" for active fans.
Customers now have a rare chance to actively participate in a brand's expansion through user-generated content (UGC). This approach works because UGC enables users to participate in the brand's community and allows them to be a part of something bigger than themselves. This has a significant impact on brand loyalty and affinity.
Conclusion
Collaborative marketing is now one of today's most prominent strategies for competing in marketplaces with intense competition. Collaboration enables growth because more resources can be accomplished quickly and effectively when resources are pooled.
Working with a reliable partner like a social media marketing company Philippines can also free up the company's time and minimize its efforts without compromising on the results. Effective planning, relationship management, goal mapping and tracking, and a dedication to doing the collaboration work are necessary for successful collaborative partnerships.
References:
https://sproutsocial.com/insights/collaboration-replaced-competition/
https://www.widen.com/blog/collaborative-marketing-solutions#:~:text=Collaborative%20marketing%20is%20when%20you,of%20a%20co%2Dbranded%20product.
https://blog.loomly.com/collaborative-marketing/
https://referralrock.com/blog/collaboration-marketing/
https://www.canto.com/blog/collaborative-marketing/
https://www.referralcandy.com/blog/marketing-collaboration-examples
Jomer B. Gregorio is a well-rounded expert when it comes digital marketing. Jomer is also known as a semantic SEO evangelist and practitioner. Check out our Digital Marketing Services today and let us help you in achieving positive and profitable results for your business.