Google historically had a "paged" search engine results page (SERP). So when users scrolled down to the end of the page, they had to click on the page number at the bottom to view additional results. But with the new Google update, users can now endlessly scroll through numerous pages.
Continuous scrolling was first implemented on mobile search in October 2021. In December 2022, Google introduced the feature for web search. With it, users can discover more relevant results and information with fewer clicks.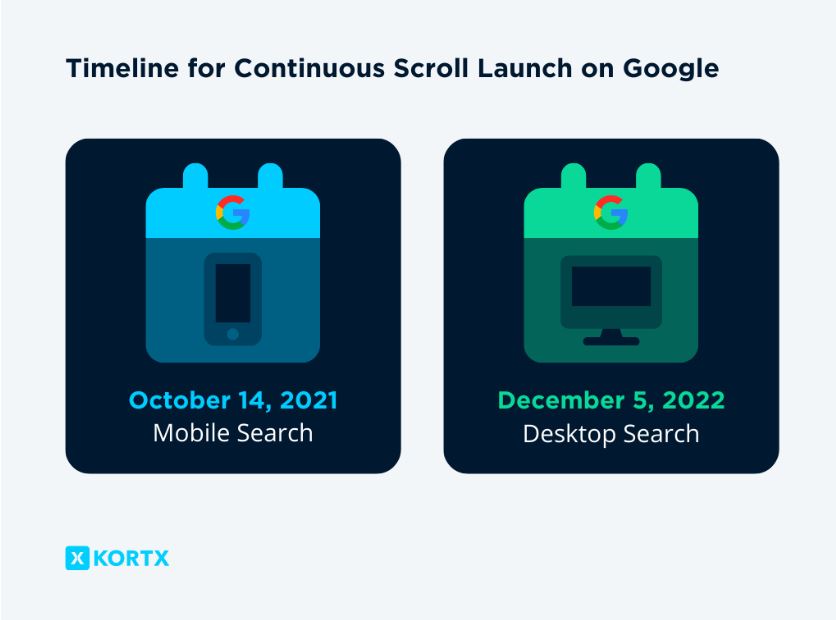 This image is taken from Kortx.
However, users should know that continuous scrolling is different from endless scrolling. The SERPs will show users up to six pages of URLs before asking them to click on "additional results. On mobile, Google allows users to navigate through the first four pages of search results continuously.
Impact of Continuous Scrolling on SERPs
Google stated there was no difference in the Search Console after changing mobile search results to continuous scrolling. Similarly, continuous scrolling on desktop searches does not change how the position reporting works. This means that position reporting remains as if pages weren't automatically loaded.
However, continuous scrolling will alter how we use the SERPs. There are various speculations on the impact of continuous scrolling on SERPs and SEO.
Here are some of the changes that might happen.
More Ads and Rich Results on Top
Google now features rich results, which include elements like shopping, video, featured snippets, frequently asked questions, and many other things. Along with ads, rich results are usually displayed on top of the SERPs. Since Google's continuous scrolling opens more room to fill with advertisements and other features, people can expect to see more rich content at the top.
Since more top space will be given to ads and rich results, some SEO professionals suggest that organic results might move lower down the results page.
A zero-click search is one where the user does not click any links in the search results. This usually happens when Google displays the answers to the user's queries at the top of the SERP, and they get the information they need without opening the webpage.
People may not click on results for various reasons. But the primary one is that the users already see the details they need from the rich results or meta descriptions. If continuous scrolling means more rich results, it could also mean more zero-click results.
People Will Explore More Results Beyond the First Page
Page 2 Google results normally get less than a 1% click-through rate (CTR). This is because people have been trained to believe that results past the first page are of inferior quality. Thus, they seldom ever click on the results listed on page two.
But the continuous scrolling function blurs the line between page one and the pages beyond. With it, low-performing sites on the second or third SERP can now get more exposure and traffic.
Plus, given the more options below, people might get used to relying less on the top results and scrolling more downwards.
Optimizing Webpages for Continuous Scrolling
Paginated search results have been the norm for a long time. For years, the first page was the primary focus for designing content, interface elements, and web pages in general.
But the continuous scroll has changed that and may create whole new possibilities. When expertly done by an outsourcing SEO agency, companies can gain a competitive advantage from continuous scrolling.
It is now more crucial than ever to stand out in the crowded SERPs because more organic results will be made available for users. Among the strategies you can take are the following:
Focus on "People Also Ask" Questions
Take advantage of Google's special features like "People Also Ask" (PAA) to get a spot at the top of the results page. If you can land a place in the PAA box, you'll benefit from higher traffic, brand recognition, and conversion rates.
To achieve this, optimize content for natural-sounding queries. You can target the questions already available on the PAA box. Or you may also find the questions your target audience really asks on platforms like Reddit, Quora, and other forum sites.
Optimize Web Pages to be Featured in Rich Results
A strategy to adjust to continuous scrolling is to have an effective schema markup. The term schema markup refers to the code that aids search engines in comprehending your material and accurately displaying it in search results.
With it, you can better connect with the search engine. It helps Google understand what each page is about and what information is most crucial. If you appropriately use schema markup, you have a better chance of ranking highly in featured snippets, local results, and frequently asked questions.
Optimize Titles and Metas
Search engine users will continue to seek the same thing they always have: instant access to information. And having an optimized title and meta description is a simple way to ensure that the readers get this.
The primary goal of a page's title and meta description is to persuade the audience to click the link to your page. These are limited but valuable search engine real estate space to briefly describe what the page offers. If done well, it makes your listing stand out.
Every meta description should briefly explain the topic and value of your page. Put the keywords that are relevant to the topic, brand, or product at the beginning. For titles, make them unique and specific and around 60-70 characters long.
Create Relevant and Quality Content
The implementation of continuous scrolling may lead searchers to stop seeing ranking as a major determining factor for choosing which links to open. Rather, it will be more about relevance.
Continuous scrolling places greater emphasis on the quality of search results. Therefore, websites must optimize their content and ensure that it addresses their audience's needs or questions.
Conclusion
Google's continuous scrolling feature has changed the structure of the SERPs. With it, users can easily navigate through search results without having to constantly click "next page." Not only does it save time, but it also provides users with a seamless experience.
The effects of this change will take some time to become apparent. But as always, marketers should keep an eye out for shifts in their search rankings, especially for high-value content.
Working with a top SEO agency Philippines like Digital Marketing Philippines (DMP) can help you stay on top of your SEO game. With experts planning your digital marketing strategy and monitoring your performance, you can reap the benefits of a fully optimized business website without handling the technical work.
Start optimizing your website today by contacting us at https://digitalmarketingphilippines.com/contact/.
References:
https://www.searchenginejournal.com/googles-desktop-search-results-are-now-continuously-scrollable/473217/#close
https://techcrunch.com/2022/12/05/google-introduces-continuous-scrolling-on-desktop-for-search/
https://www.theverge.com/2022/12/6/23495973/google-search-desktop-continuous-scrolling
https://time.com/12933/what-you-think-you-know-about-the-web-is-wrong/
https://searchengineland.com/google-continuous-scroll-seo-impact-391905
Jomer B. Gregorio is a well-rounded expert when it comes digital marketing. Jomer is also known as a semantic SEO evangelist and practitioner. Check out our Digital Marketing Services today and let us help you in achieving positive and profitable results for your business.