People's feelings about shopping vary widely based on personal preferences, interests, and circumstances. But without a doubt, many people treat shopping as the perfect way to spend their free time, and online shopping's dramatic growth is a testament to this.
People love the convenience and accessibility online shopping offers. Its platforms enable shoppers to compare prices, read reviews, and make secure transactions within the comfort of their homes. 
The popularity of online shopping and the need for a positive user experience has resulted in the emergence of social commerce.
What is Social Commerce?
Online shopping is a revolution in retail and has been elevated by social commerce. It is an expanding electronic commerce aspect that harnesses the power of social networks and digital platforms to streamline exchanges between a business and its customers.
Social media e-commerce enables customers to shop for items directly on social media platforms like Facebook marketplaces, Instagram, and TikTok shops.
Social commerce leverages the functionality of in-app checkout, buy buttons, and instant messaging, allowing customers to have a convenient social media shopping experience. It also allows consumers to perform shopping-related actions, such as product exploration, giving feedback, and ratings. Social commerce encompasses content sharing, endorsements, secure transactions, and customer loyalty initiatives.
The Rising Trend of Social Commerce
Statista revealed that in 2020, social networks accounted for approximately 3.4 percent of online retail sales in the United States. As the number of social commerce buyers continues to rise, this sector is expected to establish more than five percent of the total e-commerce sales in the U.S. market by 2025.
In connection with these numbers, Deloitte Global has predicted that the social e-commerce market will exceed a global value of USD 1 trillion by the end of 2023.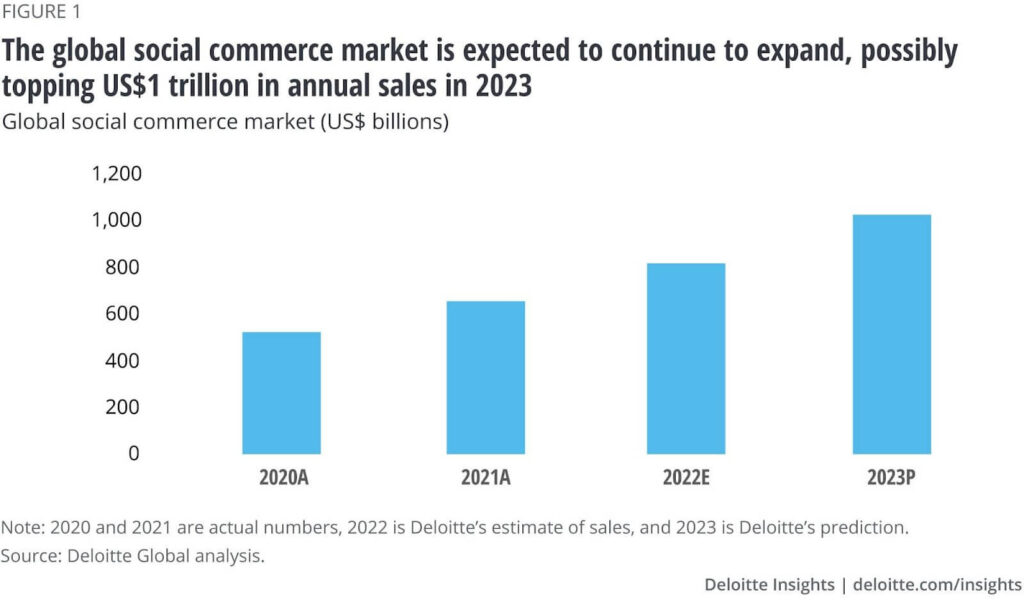 This image is taken from Deloitte Global
With this number, it is evident that more buyers will anticipate the growth of social commerce. For sellers, this predicted data means they must learn to adapt by establishing or strengthening their social media presence.
Difference Between Social Commerce and E-Commerce
Social commerce and e-commerce share the goal of helping businesses connect with customers online to enhance their sales. However, these two have some distinctions that set them apart.
Below are some of the differences between social commerce and e-commerce.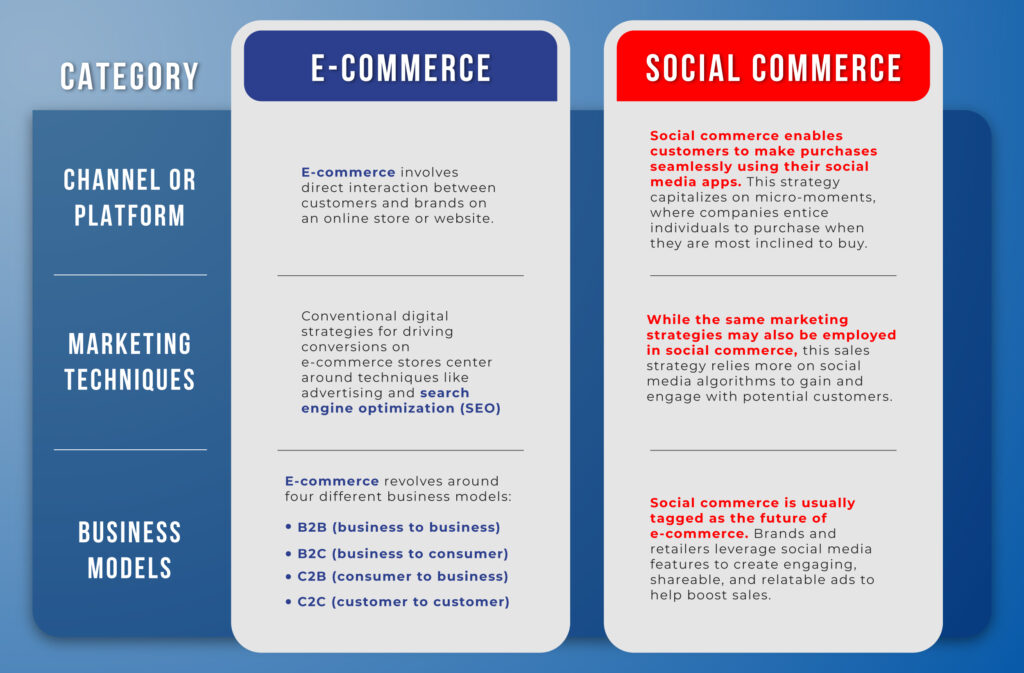 But even with these differences, social and e-commerce involve utilizing digital technology to engage customers via the Internet. Both employ diverse digital marketing tactics like email campaigns, Philippine SEO, content marketing, and pay-per-click advertising to gain interest and transform potential leads into successful sales.
Who will Benefit from Social Commerce?
In the digital era, every business must learn to adapt and keep pace with the hasty technological evolutions to stay in competition. Learning to take advantage of social commerce is one way to bring a business to where the consumers are.
But you may wonder what industries will thrive using social commerce. Many businesses may try to use this sales tactic. However, those with focused niche products, visual appeal, and engaging storytelling will be more prominent.
Some examples of these enterprises are:
Fashion and Apparel: Many people are interested in fashion – from clothing to accessories. Brands can leverage social media's visual appeal to showcase their products and connect with fashion-conscious consumers.
Beauty and Cosmetics: Like fashion, more and more people are becoming interested in beauty products, from make-up to skincare items. Companies in this industry can share tutorials and tips, influencing them to purchase products.
Home Decor and Furnishing: Businesses selling furniture, decor, and home improvement may take advantage of people's desire to DIY by posting and selling products via social media.
Electronics: Now that the world is in a digital revolution, people will always get curious about the latest electronics and try to get their hands on them.
Food and Beverage: When you check YouTube, mukbang or eating while broadcasting are among the top content. Restaurants may maximize this opportunity to showcase their food offerings, run promotions, and encourage people to buy their food.
Fitness and Wellness: Many people have become health-conscious since the pandemic. Fitness and wellness centers may use social media to share and sell workout routines and diet plans.
Online Marketplaces: Platforms connecting multiple sellers can benefit from integrating social commerce features to increase engagement, facilitate user reviews, and boost sales.
Best Social Commerce Platforms
At this point, finding someone with no social media account is rare. The global statistics research summary by Smart Insights states that around 4.80 billion people worldwide use social media in 2023.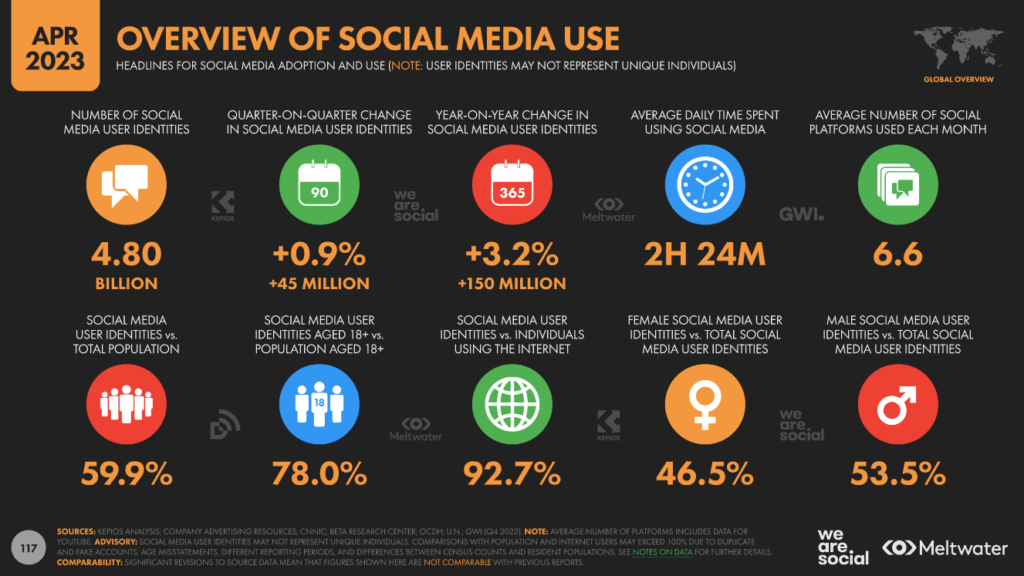 This image is from Smart Insights
With this number in mind, this generation is the perfect time to leverage social commerce. Below are examples of social commerce platforms:
Facebook
Instagram
Pinterest
Snapchat
TikTok
These five are the only platforms where you can currently market and sell your products or services. But as people's interest in social media grows, more social networking sites will likely incorporate a Shop Now button on their pages.
Social Commerce Tactics
With people's reliance on technology and social media, it is important to learn some tips and tricks that can help you make the most of social commerce.
Optimize sales and support using AI chatbots: Ensuring your customers are accommodated 24/7 is crucial in the digital realm. Take advantage of AI chatbots and automate your customer service to ensure that your customers' queries will be attended to even when you are offline.
Foster follower engagement: One crucial aspect of social commerce is its "social" part. Make sure that you engage with your consumers by answering their questions, offering value, and showing that you care about their concerns.
Listen to your customers: Having a front-row seat to your audience is probably social commerce's best feature. Employ social listening by looking closely at your post's comments and share sections. This can also help you gauge whether you need to respond or offer assistance when needed.
Stimulate reviews: Most consumers base their purchasing decisions on reviews. You can use an automated message to follow up a review when the item is delivered or give incentives like a discount or vouchers to encourage your clients to share their experiences. Either way, it is crucial to earn reviews from past customers.
Precisely target your audience: Targeting your audience requires you to identify demographics, interests, and behaviors. Using these data, create tailored content and employ SEO Manila Philippines and social media ads to help you boost your material.
Strategically price products: While many like the convenience of shopping via social media, only a few people will be willing to pay large sums of money for a single item. People often get concerned about the risk of being unable to see the item in person. Hence, you must price your products strategically to ensure your customers without losing sales.
Find the Top SEO Company in the Philippines
Social commerce, without a doubt, is an excellent marketing tool every business can use, especially in this cyber age. But while it can boost your sales and bring you more customers, its success is similar to SEO, which needs constant effort and time to be apparent.
Fortunately, social media outsourcing companies like Digital Marketing Philippines (DMP) exist.
DMP is an SEO specialist that also offers assistance in social media marketing. We started with humble beginnings in 2013 and are now emerging as one of the top digital marketing firms in the Philippines.
Up to this day, we continue to deliver high-impact Internet marketing strategies to our clients and business partners around the world.
For more details about DMP, visit our website at https://digitalmarketingphilippines.com/.
Want to learn more about digital marketing? Check out these articles:
Sources:
https://www.techtarget.com/searchcustomerexperience/definition/social-commerce https://www.linkedin.com/pulse/ecommerce-vs-social-commerce-shivam-varshney/
https://www.techtarget.com/searchcustomerexperience/definition/social-commerce
https://blog.hootsuite.com/social-commerce/
Jomer B. Gregorio is a well-rounded expert when it comes digital marketing. Jomer is also known as a semantic SEO evangelist and practitioner. Check out our Digital Marketing Services today and let us help you in achieving positive and profitable results for your business.